The sister ship of the vessel that blocked the Suez Canal for weeks last year remains stuck in the Chesapeake Bay.
Ever Forward is still going nowhere, according to a press release from the US Coast Guard in Maryland, where the vessel is grounded.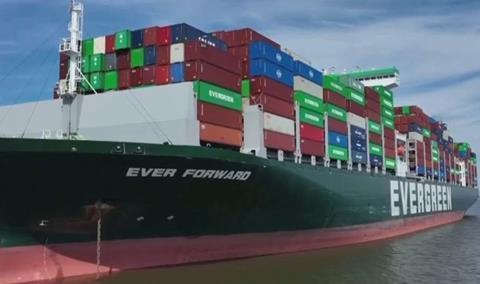 The ship was headed with its 4,000 containers from the Port of Baltimore to Norfolk, Virginia, on March 13 when it ran aground north of the Chesapeake Bay Bridge, the US Coast Guard said.
Dredging undertaken by salvage firm Donjon Smit failed to loosen the ship, which has now been stuck for more than two weeks – unlike her sister ship, Ever Given, which blocked the Suez Canal a year ago but was freed after six days.
Another attempt was made to refloat the ship, operated by Taiwan-based Evergreen Marine, on March 29, but that has failed, reports said.
Five tug boats 'straining to yank' the 305m boat off the floor failed on March 29, according to the Associated Press news agency, and if a further attempt also fails, two anchored pulling barges will be added to the tugs.
Officials said they would extend the current 457m safety zone around the ship to 914m, closing the navigation channel to commercial traffic until midnight. In addition to regular fuel and ballast tank checks, a naval architect aboard the Ever Forward is monitoring the ship's stability, an effort that will continue during the operation to refloat the ship, officials said.
If that also fails, some of the containers will have to be removed to lighten the load.
The Coast Guard says it has still not determined what caused the Ever Forward to run aground.