Bureau Veritas has delivered Approval in Principle to the start-up COLD PAD for its C-Claw technology.
C-Claw is a heavy-duty fastener for steel structures that is non-intrusive - ie no holes or hot work are required to use it.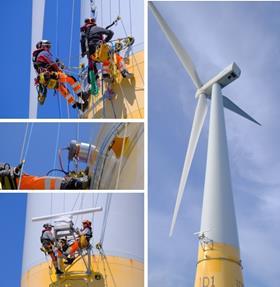 Designed as an alternative to welding or drilling, C-Claw can be used on any structural outfitting, maintenance and modification operations, the company says, including cable trays, pipe supports, skids and ladders.
It can be used in a number of applications - such as installing antenna, cabinet supports and junction boxes to avoid drilling the hull and generating hot works.
On the wind turbine pictured right, a radar has been fastened to the transition piece using C-Claw.
Another example, below, is where the technology is used on deck to support pipes where otherwise they would have to be welded on.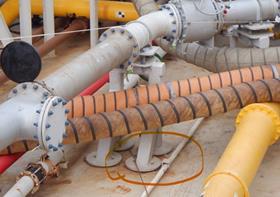 "C-Claw has been developed for marine environments like offshore platforms," said COLD PAD CEO Jean-Philippe Court. "It was inspired by composite techniques that have been used for decades in aeronautics, with an exceptional reliability and durability due to a process-controlled installation."
Bureau Veritas says it has worked with COLD PAD for years on the technology and only gave the AiP once rigorous testing and reviews had been completed.
The next step will be to obtain a Type Approval Certificate to confirm that it is safe to use, following a risk assessment.