Two firms have strengthened ties in science and technology with a focus on floating wind turbines.
Navtek Naval technologies and Seawind Ocean Technology have agreed to work more closely together to develop Seawind's integrated floating wind turbine concept.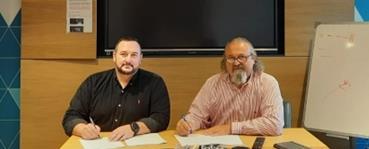 The two have also agreed to strengthen ties in science and technology within the marine sector.
The firms will plan and work on the construction, transport and installation of Seawind's 6.2MW floating prototype, based on a Gamma 60 onshore two-bladed wind turbine that was certified by DNV in December 2019.
The turbine has twin blades, which the firm says increases generation efficiency and improves rotor stability. It can be installed and assembled with a simple tug tow and straight-forward anchoring, which is cheaper and less risky than conventional turbines, Seawind says.
The agreement with Navtek is the second Seawind has signed in recent months, following an agreement with Blue Ocean Sustainable Solutions in April to act as the project engineering and permit-technical office for Seawind's floating offshore wind projects in Portugal.