As the UK heads down its 'green industrial revolution' track, bids are being invited to bury CO2 under the sea.
Bids are invited for the UK's first carbon storage licensing round, in which 13 offshore areas have been identified as potential sites for storing millions of tonnes of CO2.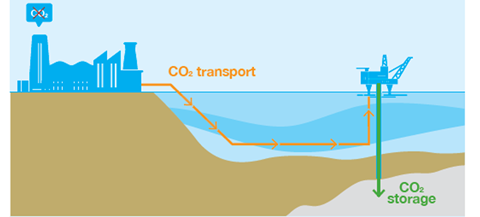 The North Sea Transition Authority (NSTA) envisages this round will see the first of at least 100 stores of CO2 under the ocean floor.
"Carbon capture and storage (CCS) involves the capture of CO2 emissions from industrial processes and will play a crucial role in decarbonising the UK's major industrial hubs such as Teesside and Humberside," says the NSTA. "This CO2 is then transported from where it was produced, via ship or in a pipeline, and stored offshore, deep underground in geological formations."
The locations - all around the UK, from Aberdeen in the north to Lincolnshire in the south, LIverpool in the west and Teesside in the east - have been selected because they have the best geographical conditions, proximity to existing infrastructure that could be re-purposed, and links to industrial clusters that need carbon storage to help them meet their decarbonisation goals.
The NSTA says 'unprecedented levels' of interest has emerged from companies eager to enter the CCS market.
"Carbon storage is going to be needed across the world. There is growing investor appetite and we are keen to accelerate development of the carbon storage sector so that UK is well positioned to be a global leader," said Andy Samuel, NSTA Chief Executive.
"The NSTA is ready to work with industry, government, regulators and others to deliver these exciting projects at pace." 
Carbon dioxide is usually stored at depths of more than 800 metres, when it no longer behaves as a gas but as a supercritical fluid. Geological formations such as the Triassic Bunter Formation and Tertiary Forties Sandstones deposited 230 and 260 million years ago could be ideal for storage, the NSTA says.
Five CCS licences have already been issued to Pale Blue Dot Energy; Eni; Harbour Energy; BP/Equinor; and the National Grid/BP/Equinor (Northern Endurance Partnership).