The first high-voltage charging point is to be installed on the River Thames in time for an 88m fully electric vessel's arrival in October.
Net Zero Marine Services (NZMS) director Miles Cole spoke to Maritime Journal about the pressure the firm is under to get the first charging point installed so that Ocean Diva can charge up as she goes about her business on London's River Thames.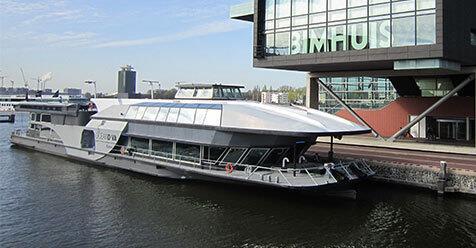 "We have a team of renewable specialists who have designed the shore power infrastructure," he said. "It will be rolled out starting with our shore power station at West India Pier, where it can charge its batteries to 2.2MWh in four hours.
"For a boat working every day of the week it will need to charge three or four times in a week.
"It's the best of British engineering, pushing against the tide, but we are 18 months into this project and it has to be delivered by October."
NZMS has set up six high-voltage shore power connections and five low-power connections at the West India Quay station, with a second station soon to go online in central London.
The shore power will come from UK power networks, but the exact source is trackable and has been certified as a renewable source, Cole said.
She will have a genset fuelled by HVO as back-up, Cole said, which still meant 90% fewer emissions than a diesel equivalent.
Built by Veka in the Netherlands, Ocean Diva is an events vessel that will be managed and operated by the UK's events and hospitality supplier, Smart Group.