Britain is stepping up its efforts to protect vital subsea cables and infrastructure in the wake of the Nord Stream 2 pipeline destruction.
A £250 million (€285 million) programme to build a successor to the Royal Yacht Britannia, one of former UK prime minister Boris Johnson's pet projects, has been ditched so that two Multi-Role Ocean Surveillance vessels can be brought forward by some months, the govenrment has confirmed.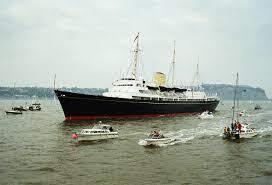 Defence secretary Ben Wallace told the UK House of Commons that the decision had been made to accelerate the vessels purchase in light of Russia's activities in the Ukraine and to ward off current and future threats to cables on the seabed, such as the recent Nord Stream 2 pipeline incident.
"To effectively address the current and future threats, we will now invest in MROS ships that protect sensitive defence infrastructure, and civil infrastructure, to improve our ability to detect threats to the seabed and cables," he said. "I have also therefore directed the termination of the National Flagship competition with immediate effect to bring forward the first MROS ship in its place and I shall make further announcements on our continued Naval investment in the coming weeks.
"The increasing commercialisation of the seabed for energy and communications purposes has resulted in increased opportunities for adversaries to hold Western subsea critical national infrastructure at risk," Wallace said. "The vessels will be adaptable, and able to provide a range of capabilities, such as operating remote and autonomous offboard systems for underwater surveillance and seabed warfare."
The first of two vessels will be delivered as soon as January, the government has confirmed, having been converted from its former function as a commercial vessel. The second will be built from scratch.
In May 2021, Britain announced it would hold a competition for ship builders to tender for a contract to build a national flagship 'reflecting the UK's burgeoning status as a great, independent maritime trading nation', Johnson said. It would have been the first national flagship since the Royal Yacht Britannia was decommissioned in 1997.
At the time of writing, the Ministry of Defence had not given any further details of the two MROS vessels on order.
Supporting documents
Click link to download and view these files
Other, FileSizeText 6.29 kb