The consortium behind a novel concept to supply shorepower is on the brink of building a prototype to test its technology.
The BlueStor project has come up with detailed plans to install a floating organic flow battery for port energy storage that is installed on a floating barge.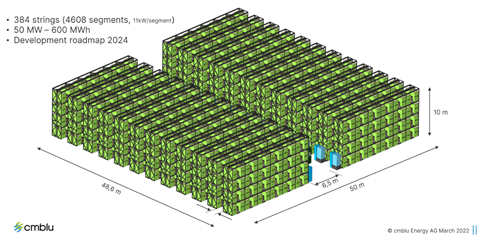 The next step, if its application for Phase 2 funding is successful, is to build a pre-commercial prototype that will be big enough to store energy and provide shorepower for two cruise ships at the Port of Portsmouth.
MSE International, a sector consortium for marine industries, is working with International Flow Battery Forum founder and consultancy Swanbarton, organic flow battery firm CMBlu and design and engineering consultancy Houlder under a programme funded by the UK government – the Longer Duration Energy Storage Demonstration Programme (LODES).
It believes that flow batteries, in which a stack of electro-chemical cells convert electricity into chemical energy that is then stored in electrolytes in external tanks. To supply ships, the flow of energy goes back the other way.
The feasibility study in Phase 1, BlueStor claims, shows that although the energy density of each cell is relatively low, a large-scale 50MW, 600MWh installation would actually be more compact that a lithium-ion battery equivalent because the low fire and explosion risk of organic flow batteries allows much tighter packing.