Installation of the foundations of the first of 50 wind farms off the coast of France has been completed by Belgian marine civils engineer DEME Offshore.
Working with Eiffage Métal, the industrial designer and assembler, it has taken just over a year to complete the foundations for 80 XL monopiles at France's first wind farm at Saint-Nazaire, having begun in spring 2021.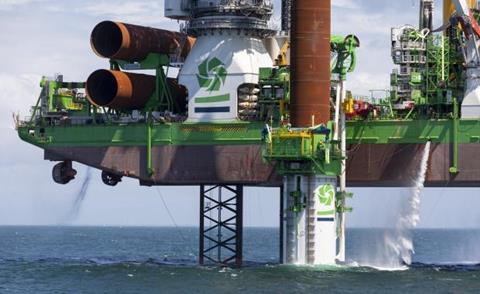 Tunnel boring firm Herrenkecht worked with DEME to jointly design a 350-tonne Offshore Foundation Drill (OFD) to perform the drilling for the turbines.
"Other unique equipment deployed at Saint-Navaire is the MODIGA," says DEME. "At nearly 60m high, the MODIGA encapsulates the drilling and installation operations, protecting them from the adverse Atlantic marine conditions, which in turn enhances operational working time.
"The complete technological solution has been deployed from the offshore installation vessel Innovation."
More than 200 other companies have been involved with the project, DEME says.
"Deploying this world's first equipment enabled us to complete the installation well ahead of schedule. Installation operations continued through the winter season, despite the combination of severe weather conditions and the harsh Atlantic environment," said Bart De Poorter, General Manager DEME Offshore.
The Saint-Nazaire wind farm will have a total capacity of 480MW, which will be the equivalent of 20% of the French department Loire-Atlantique's electricity needs. The wind farm is being developed by EDF, Enbridge and CPP Investments.
It could be argued that France is quite late to the wind farm party, with this just the first one.
However onshore wind capacity is already at 18GW, which supplies about 8% of the country's electricity, according to the organisation Wind Europe, and there are plans to double that to 36GW.
Offshore wind could also see a massive expansion of up to 50 wind farms now that President Emmanuel Macron has been re-elected, as he is a keen supporter of the sector and has said he plans for the country to be carbon neutral by 2050.