Just eight years ago, Rebel Marine was hiring out kayaks and paddleboards from a waterside yard on the Isle of Wight.
Just eight years ago, Rebel Marine was hiring out kayaks and paddleboards from a waterside yard on the Isle of Wight.
Now it's chartering crane barges for large civil engineering projects.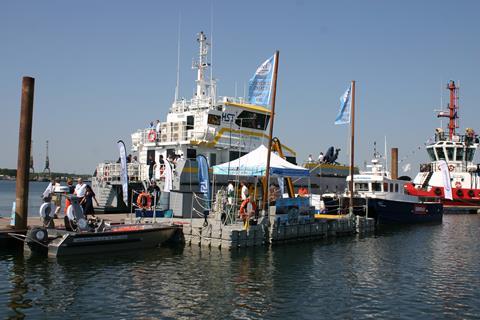 Rebel Marine's extensive Seawork spread
First-time exhibitors at Seawork '23, Rebel Marine has got behind its local event with a substantial three berth on-the-water exhibit, featuring an aluminium open workboat, a configurable Versadock crane barge and Anchorman, their largest vessel: a 10m Blyth Catamaran.
Speaking to MD Mathew Randall at Seawork, there's not much that this vessel charter business won't take on.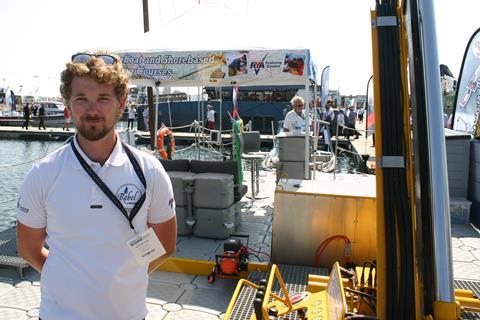 "To say our clients are diverse would be an understatement," he said. "One day we could be providing a support vessel for a cross-Solent swim or fast luxury RIBs for a hen night, the next a modular barge and pushboat for a bridge inspection or riverbank works for a substantial infrastructure owner such as Network Rail."
Recently the company has been supporting repair works on Ryde Pier, close to their company base in Fishhbourne. In the last year, according to Randall, not a day has passed without some Rebel Marine equipment on site at this critical life extension work on the now somewhat high maintenance Victorian pier.
The fleet
Going through some of Rebel Marine's extensive and rapidly growing fleet of 16 vessels, numerous pontoons and plant equipment is perhaps the greatest illustrator of this company's diversity.
The latest addition to the fleet, and one of the smallest vessels, is Rebel Defender, a 6m aluminium safety/workboat. Push bow fenders and coupling winches make it perfect for moving pontoons, platforms and other vessels, a great addition to the company's modular pontoons.
Shallow draft and great manoeuvrability make Rebel Defender perfect for working under piers, bridges, nearshore works and rivers. Large open design and built-in seating/storage allow for personnel and kit to be carried onboard. With low air draft in mind it has a collapsible A-frame and low console, allowing easier access under bridges and floating structures.
Rebel Defender has a near sistership in the shape of Rebel Lander, a 7m aluminium landing craft with a winch down bow loading door for access to the waterline as well as pontoons/jetties and drive on/drive off equipment from small trailers to quad bikes and machinery.
Modular pontoon
Centre stage on Rebel Marine's Seawork exhibit and attracting a lot of attention was a modular pontoon-mounted marine knuckle boom crane, on a custom-built frame with power pack. With a draft of just 175mm, this versatile floating plant offers shallow water-lifting operations to support marine works from piling to scour protection and more. It obtains its modularity and buoyancy from Versadock pontoons (Rebel Marine are also a Versadock dealer).
The Heila Marine Crane has four auxiliary services on the boom tip with quick-release connections to run hydraulic attachments, including hydraulic Grab Bucket, Rotator and Pile Driver, with proportional control levers at the main pedestal for operation.
Once the crane is in the folded position, the whole base and frame can be hydraulically tilted on its side to get under lower bridges then returned to its operating position in minutes. The spud legs can be lifted out and lowered to the deck and the mast dropped.
The pontoon has a custom sub-frame within the structure to stiffen the floats to keep the crane stable. Both the crane and pontoon have undergone rigorous testing, including a LOLER and load test using water weight.
The ultra-shallow draft allows access to places larger multicats cannot reach. The Modular Crane Pontoon can be mobilised by water or dismantled for road transport to site. The crane can self-load and service its working deck and spud legs.
Stable platform
Completing Rebel Marine's substantial Seawork presence, Rebel Anchorman is a 10m Blyth Catamaran. This vessel, currently the largest in the Rebel fleet, was purchased from another commercial marine operator, but fully refitted and repowered by Rebel.
According to Mathew Randall, the catamaran provides a stable platform that is popular with photographers and commercial clients. It benefits from some useful features not available in Rebel's smaller open boats, such as a heated cabin, toilet, hand basins, oven/stove, fridge and microwave.
With state-of-the-art navigation equipment from Simrad, Anchorman offers year-round go-anywhere capabilities.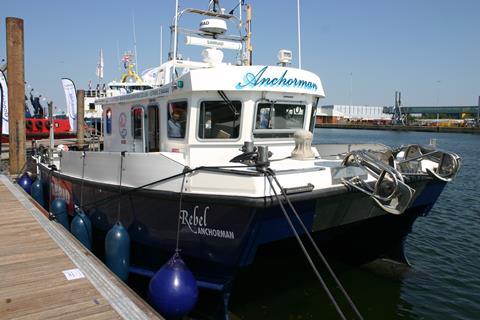 A large rear deck with lashing points and supports is perfect for rigging camera booms and equipment for filming. Operators regularly use Anchorman to take off and land drones for a variety of marine-related projects.
The vessel is also well suited for survey work, with spacious aft deck to stow equipment and attachments for an optional survey boom.
Being a local company almost within sight of Seawork venue Mayflower Park, Rebel Marine had always known about Seawork, but following recent growth and a rapid fleet expansion, 2023 seemed like the right time to take the plunge and exhibit for the first time.
"We've always walked the floor at Seawork and always highly rated the quality of visitors here," said Randall. "If you are a commercial marine professional, it is simply the place to be every June. The recent growth of Seawork into the Marine Civils side matches our own aspirations and we've had some encouraging meetings here this year."