A project to build two hydrogen-powered, remotely controlled and autonomous short sea container ships has secured funding.
Dutch logistics firm Samskip and marine robotics specialist Ocean Infinity have managed to secure €15 million in funding from Norwegian state enterprise ENOVA to build the vessels, which are planned to sail between Oslo Fjord and Rotterdam.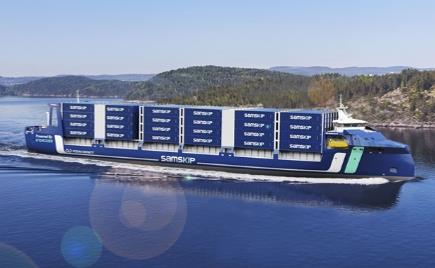 The funding has been secured under a project named SeaShuttle, which aims to deliver the two vessels by 2025.
Originally announced at the Nor-Shipping conference earlier this year, each vessel will be powered with a 3.2MW hydrogen fuel cell as its main propulsion, with diesel electric propulsion on board as back-up.
"Securing this funding provides a platform to make emissions-free container shipping a reality," said Samskip Norway CEO Are Gråthen. "Together, Samskip and Ocean Infinity will also accelerate their plans to advance autonomous ship technologies, and remote operation of ships and cargo handling equipment. These ships are the first part of an exciting collaboration with Ocean Infinity."
"We would like to thank Enova for their support for our vision which represents a firm endorsement of our ground-breaking approach and allows us to proceed at full speed in bringing this project to life," said Christopffer Jorgenvag, CCO at Ocean Infinity.