A new lab that can simulate a vast range of maritime scenarios could prove invaluable for offshore operations.
The Maritime Simulation Laboratory at the University of Plymouth brings together a network of high-tech components that can be used to run a series of maritime scenarios in real time, researchers say.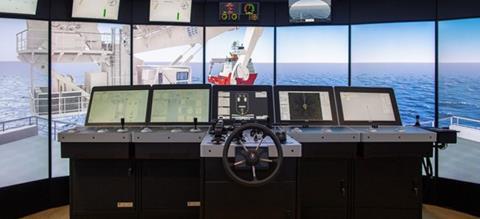 At its heart is a Kongsberg K-Sim Dynamic Positioning simulator, which will initially be used to simulate, test and optimise marine operations throughout the lifecycle of floating offshore wind (FLOW) installations.
"This simulator, and the software we have designed for it, is exceptional," said Dr Adan Lopez-Santander, Lecturer in Navigation and Maritime Science and Maritime Simulation Laboratory lead. "It gives us the capacity to replicate in real time what is happening anywhere on the ocean and in any given conditions.
"It also enables us to monitor the stresses being placed on individual structures, and how they will affect that structure's interaction with other devices. In sectors such as offshore renewables and marine autonomy, being able to perform these tests in a virtual environment will be critical to existing and future research and development."
The simulator creates a space where offshore wind project teams can verify, test and optimise installation and maintenance projects. It could also have applications across the marine and maritime sector, in fields including craft design, marine autonomy, clean maritime, and maritime infrastructure.
The new facility can accurately model any maritime geographical area in the world, including terrain data, tides and currents and a wide range of environmental conditions, such as wind, sea state, precipitation and ice.
It will allow trained technicians to create new craft that appear realistic and exhibit accurate hydrodynamic and aerodynamic functionality. It can also be programmed so that maritime objects – including buoys, cables, anchors and docks – can interact with the simulated environment and with each other.
Numerical models link to R&D
High levels of visibility and integration mean it can evidence numerical models, enabling staff to see the strains and loads being placed on simulated objects by different weather and sea states.
The new simulator will also link to the research and development taking place in the COAST Laboratory, providing academics and industry with a virtual environment in which to test their innovations before they are deployed in its wave tanks.
The new Maritime Simulation Laboratory complements other cutting edge facilities already being used for research, teaching and engagement at the University.
These include a Ship Simulator, which is able to recreate the environment of a maritime vessel navigating the ocean, and the Cyber-SHIP Lab, the UK's only hardware-based maritime cyber security research and development platform.
"This simulator is a genuine game changer across a number of critically and globally important sectors," said Professor Kevin Jones, Executive Dean of Science and Engineering at the University of Plymouth. "We now have unrivalled capabilities to assess how individual devices and collective infrastructure will respond to unique ocean conditions.
"But beyond that, and in tandem with our existing facilities, we have the power to both predict and overcome a number of key challenges facing these sectors. It means that, now more than ever, we can play a crucial role in advancing marine and maritime innovation."
The Dynamic Positioning simulator has been acquired through the university's involvement in the Cornwall FLOW Accelerator project. It is led by Celtic Sea Power, and supported by a grant of £4.8m (€5.4m) from the European Regional Development Fund through the Cornwall and Isles of Scilly Growth Programme.