Norwegian ship owner Edda Wind will expand its fleet to 10 vessels under a new contract signed with shipbuilder Gondan to build a Commissioning Service Operations Vessel (CSOV).
It brings the number of CSOVs from Gondan to six, on top of two other vessels delivered by the shipyard in 2018.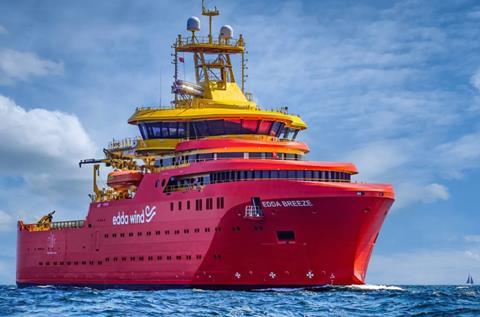 The company says the new vessel, due for delivery in 2025, will be similarly prepared for the instalment of zero-emission technology as the previous vessels have been.
"The CSOVs of this series will be prepared with a hydrogen-based energy system planned for four weeks endurance," said Nadia Serantes, marketing & PR co-ordinator with Gondan. "In principle, this means that these vessels in a few years' time will be capable of supporting the construction and commissioning of wind farms without generating carbon emissions."
Six of the vessels, says Edda Wind, are being operated in the offshore wind segment by SiemensGamesa, Vastas, Ocean Breeze, SSE and Ørsted.
"Ordering another CSOV will further strengthen Edda Wind's leading position within offshore wind," said CEO Kenneth Walland. "Building a series of vessels like this, with the experience and knowledge we have from the vessels currently under construction, gives us an advantage both with regards to shipbuilding cost and later during operation.
"The industry has experienced an increase in shipbuilding prices of about 20% in just a year. Therefore, we are satisfied having placed an order that represents a total ready for sea cost in the low €60 millions. This includes a high specification in line with Edda Wind's philosophy, eg, hydrogen-ready, Voith Schneider propulsion, highest standard of accommodation as well as extensive energy-optimisation solutions to increase energy efficiency and reduce emissions.
"The equity portion of this investment is fully funded as part of the capital raise done during the IPO. Tremendous growth is expected in the offshore wind market over the next decades. Edda Wind has a clear ambition to grow the fleet beyond the ten vessels already ordered to maintain its position as a leading C/SOV company."
In late October, Edda Brint was delivered by Astilleros Balenciaga as the second Service Operation Vessel (SOV) of a seven-vessel build programme.
She will begin installing a motion compensated gangway system as her first job under a 15-year contract with Vestas in Scotland from January 2023.