Damen Shipyards has boosted its order book with notable contracts for three of its next generation tugs for Dutch and German owners.
The history of Dutch towage service provider Muller stretches over a hundred years, its tugs' black funnels with the large white letter M a regular sight in Dutch waters and beyond. Muller operates a diverse fleet of both seagoing, harbour and pusher tugs along with seagoing and inland barges providing a range of services beyond just towage.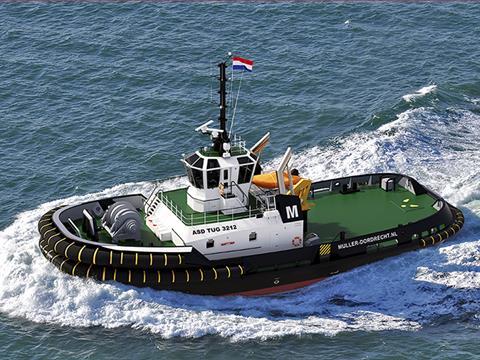 The Dordrecht-based company has now ordered a Damen ASD Tug 3212, a sign of confidence demonstrating healthy demand for capable towage services to support North Sea oil and gas decommissioning and renewable energy activity. Commenting on the order, Damen says day rates look to remain firm for premium workboats into the foreseeable future, not least because high-efficiency new vessels are in short supply and very much in demand.
While this purchase represents its first newbuild contract in many years, Muller has operated Damen Pushy Cats and Multi Cats in the past and both companies are family owned and located close to each other. Damen's short delivery time and its build for stock policy were factors in securing the order.
Providing a bollard pull of 83t, the ASD Tug 3212 is a capable vessel in its basic form, even more so with the range of options available for specific roles, and Muller has opted for almost all of them, indicating the intention to maximise its capabilities. The specification includes IMO Tier III after-treatment system, large afterdeck winch together with open stern, hydraulic towline guide pins, deck crane and support boat. A winterisation package for operations in high latitudes is specified, including additional insulation, heated windows and a GMDSS A3 rated communications system.
The tug is currently in build at Damen Song Cam Shipyard in Vietnam.
Bram Muller, CEO of Muller Dordrecht, said at the signing ceremony: "After many years we are happy to be working together once again with Damen Shipyards. This ASD Tug 3212 will strengthen our tailor-made solutions for our customers, not only offshore but also in-port."
Fairplay Towage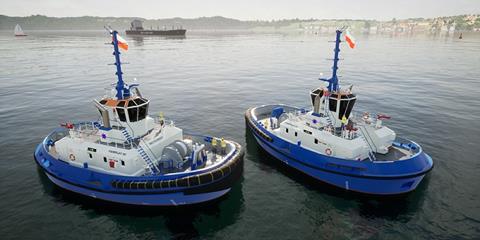 Germany's Fairplay Towage Group is another European tug owner with a long history and diverse fleet of more than 100 vessels operating in 29 ports, including recently increasing its presence in Rotterdam. Its fleet was enhanced in 2017 when fellow German tug owner Bugsier Reederei merged with Fairplay. It also owns the Hamburg dockyard Theodor Buschmann and has a 50% participation in Multraship Towage & Salvage in The Netherlands.
Fairplay's fleet is soon to be enhanced with two Damen RSD Tug 2513s, to be delivered in January 2023 as with Muller's order, from the builder's Vietnam facility. Damen first showcased its 'always stern first' RSD Tug 2513 to maritime media in 2018 (MJ June 2018) your correspondent commenting: "Experience will judge the eventual success of this intriguing new design and it will be interesting to see how Innovation [the first vessel's name], the new impressive addition to Damen's portfolio fairs in a market that thrives on the challenge of innovation."
Four years on with around 20 delivered and a worthy number of yard allocations noted for the series, it is clearly making an impression on the market.
Fairplay's examples will feature powerful render-recovery winches with auto-tensioning systems along with fifi1-rated firefighting systems. Fairplay has also opted for immediate IMO Tier III compliance, specifying Damen's NOx reduction system featuring selective catalytic reduction. Another factor in Fairplay's decision to choose Damen was for its Triton digital platform for optimisation of operational efficiency.
Joschka Böddeling, Damen Sales Manager, said: "We are very pleased to be supplying Fairplay with these state-of-the-art tugs. Fairplay has operated Damen-built vessels for many years and we were delighted when last year they purchased a Shoalbuster 2711 for general operations in the North and Baltic Seas. This latest contract further reinforces the cooperation between our two companies."
Arkadiusz Ryz, Fairplay Towage Polska, said: "We are delighted with this order, which is connected to our last year purchase from Damen. Thanks to strong connection with our clients we actively respond to the growing market needs with highest quality and efficiency available. Those two highly maneuverable and high performance new modern tugs will strengthen our fleet and cooperation with Damen."