As the war in Ukraine enters its sixth month, strangling vital food supplies, an agreement has been reached to get exports going again.
An agreement to set up a humanitarian maritime corridor to allow ships to export grain and other foodstuffs from Ukraine has been signed in Turkey.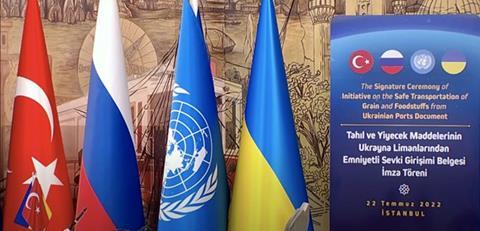 It means critical cargoes of grain and other commodities can now be safely transported through the Black Sea.
In March, the IMO Council at a 35th Extraordinary Session requested the IMO Secretary-General collaborate with relevant parties to initiate the corridor between the Black Sea and the Sea of Azov.
"It will bring relief for developing countries on the edge of bankruptcy and the most vulnerable people on the edge of famine," said UN Secretary-General António Guterres. "And it will help stabilize global food prices which were already at record levels even before the war – a true nightmare for developing countries."
The three key Ukrainian ports of Odesa, Chernomorsk and Yuzhny will now be open for food exports, Guterres said.
"The shipment of grain and food stocks into world markets will help bridge the global food supply gap and reduce pressure on high prices," he said.
The Russian invasion of Ukraine is about to enter its sixth month.