A UK container terminal is now run entirely on vegetable oil, eliminating diesel and cutting net emissions by 80%.
DP World's container terminal in the UK port of Southampton says it has taken a major step forward by making the leap from diesel to HVO in fuelling all of the fleet and installations at Southampton with HVO.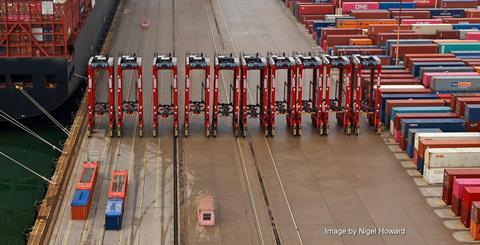 "This innovation shows our determination to continue playing our part in helping the UK meet its target of delivering the government's Net Zero 2050 policy and improving local air quality," said John Trenchard, UK Supply Chain Director at DP World.
"We estimate that using HVO will save around 14,000 tonnes of carbon dioxide on an annual basis - the equivalent of taking more than 8,000 family cars off UK roads each year."
Trials of HVO began at DP World last year, when it used the fuel in its forklift trucks, reefer generators and straddle carriers, which lift containers moved by the quay cranes and then service onward forms of transport via road and rail.
"Based on actual diesel use calculations and replacing these with HVO technical data, a net carbon dioxide reduction of more than 80% was calculated," the company says, adding that HVO is considered an interim solution until electic and hydrogen power can be trialled.