Lost for a century: Ernest Shackleton's ship discovered on the Antarctic seabed
The expedition that discovered of explorer Ernest Shackleton's long-lost Endurance in the Antarctic Ocean was helped along with winching equipment and controls from Hydramec and its supplier Scantrol, the firms say.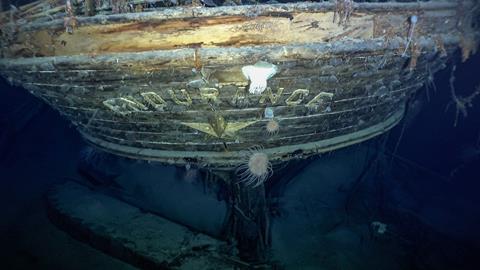 Ernest Shackleton's ship was crushed by ice and sank in the Weddell Sea in the Antarctic in 1915. Shackleton and his crew abandoned ship, then survived for 20 months in the bitter cold of the Antarctic.
Endurance lay undiscovered until this March, when a team of researchers from the Falklands Maritime Heritage Trust found it during an Endurance22 expedition.
Two 25,000m winches were provided to the expedition by Hydramec, with 3.5mm fibre optic cable tethered to an autonomous unmanned vehicle (AUV) to gather real-time data while the wreck was being surveyed. It meant the images could be viewed by the crew without having to bring the AUV back to the Endurance22.
To withstand the temperature of the Weddell Sea, the winches had to be made out of aluminium, and together with their cables they had to weigh less than 1.5 tonnes in case they had to be helicoptered onto ice. The winches also had skis on the bottom in case they needed to be towed on the ice.
A special drive was set up on the level wind to allow continuous tension on the cable, which could be adjusted by a control system.
The researchers worked from the South African polar research and logistics vessel, S.A. Agulhas II, owned by the Department of Forestry, Fisheries and Environment. Saab's Sabertooth hybrid underwater search vehicles were used to find the wreck, the team said.
There are no plans to raise Endurance from its icy grave.
"The wreck is protected as a Historic Site and Monument under the Antarctic Treaty, ensuring that whilst the wreck is being surveyed and filmed it will not be touched or disturbed in any way," the researchers said.
"We are overwhelmed by our good fortune in having located and captured images of Endurance," said Mensun Bound, director of exploration on the expedition. "This is by far the finest wooden shipwreck I have ever seen. It is upright, well proud of the seabed, intact, and in a brilliant state of preservation. You can even see "Endurance" arced across the stern, directly below the taffrail. This is a milestone in polar history."
Shackleton died in 1922 on board Quest, while it was anchored off South Georgia.