As always, Seawork's Innovation Showcase brought together a broad spectrum of emerging technologies along with the European Commercial Marine Awards, which were presented immediately afterwards.
Some were based on apparently simple ideas: fish can be killed by piling soundwaves,but can be saved with Frog Environmental's Bubble tubing for coastal sound attenuation – which won the Diving and Underwater category.
Some were less simple and developments on existing technologies, such as HST Marine's new CTV, HST Frances, which won the Vessel Design & Construction category. The Singapore-built vessel's hull form and bow height allow comfortable transfers at over 1.75m wave height, while the hybrid power arrangement achieves silent, zero emissions capability between 10 and 15 knots, a transit speed of 25 knots and a 19t bollard push.
Other entries made things look simple, like the Marine Power and Propulsion award winner, ePropulsion's I-Series electric inboard motor. This environmentally friendly, 10 to 40kW solution for small to medium-sized boats integrates motor, controller, gearbox, cooling and system management. It's easy to install and the company says it takes up 60% less space as well as being 65% lighter than a typical, equivalent combustion engine (as well as being 30% lighter than similar electric inboards). It has huge potential, said the judges "for filling a gap in the market".
One or two entries to the Innovation Showcase were unique. The Vessel Equipment award was scooped by Danish firm Dacoma, for its retractable Airkeel stabiliser. This uses a buoyant, torpedo-shaped appendage to reduce wave motion and increase hull efficiency right across the speed range, even when idling.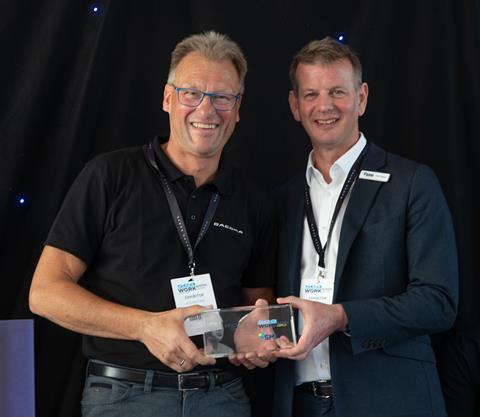 It's retrofittable to a range of vessels up to 40m, but CEO and owner Arnd Baurichter explained that it's of special interest to the offshore wind market which, he said, "is actively looking for new solutions to adverse weather conditions".
The product is soon to be put through its paces on a 24m CTV from Opus Marine which will see its effects rigorously measured.
The judges were unanimous in awarding the Spirit of Innovation award to Searchmaster for its ApS SL680 'intelligent' search light, which also scooped the Safety and Training prize.
"People have been making searchlights for over 100 years, but they've basically all been the same," general manager Soren Mogensen told MJ.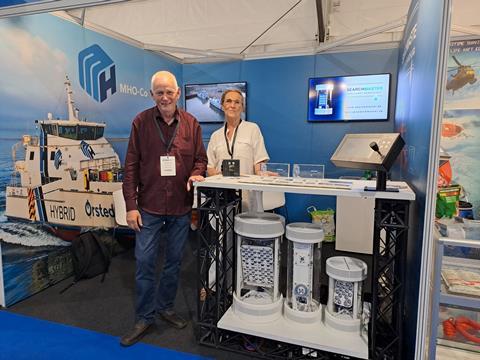 International sales manager Heidi Enemark and general manager Soren Mogensen with their two Innovations awards and a range of prize-winning search lights
What differentiates this one is its ability to gimbal as well as track anyone overboard by integrating modern shipboard systems, connecting GPS, compass and radar with AIS and allowing intelligent, automatic tracking of PAB/SART distress signals as well as other vessels or water-borne objects. The judges' verdict? "It's a true lifesaver."
European Commercial Marine Awards
The ECMA winners also showed their ability to rise to a challenge: Windcat took the Maritime Sustainability award with a retrofittable hydrogen system, which demonstrates how CTV combustion can be cleaner and greener; while the Marine Civils category was won by Teignmouth Maritime Services' deepening work for BAE Systems.
This involved complex scenarios including zero visibility, and even saw divers coached using VR simulations. As a result of these very thorough (and innovative) preparations the project was concluded with no incidents.
The Young Person's Development award went to Seren Nix, studying at Brockenhurst College, who showed "enormous commitment to her career", said the judges, while commitment to his personnel won Jason Parker of Farra Marine the Maritime Professional of the Year award.
The judges added he "champions his crew… and doesn't allow them to be seen as disposable components".
Finally, the Lifetime Achievement award was rather different this year.
Mercator Media owner and founder Andrew Webster explained that while this normally celebrated an individual "this year, we've decided to take a different tack, and instead award it to an organisation that's a vital part of the commercial marine industry".
The UK Harbour Masters' Association started 30 years ago in 1993, in that time growing to around 400 professional and 100 commercial members, said executive officer Martin Willis, accepting the award.
Despite this, it still remains true to its very diverse membership: "We really try to make a difference," he said.