Dutch towage operator Kotug and global food conglomerate Cargill have commenced operation of the world's first fully-electric pusher tug and barges on the Netherlands inland waterway system.
Early in 2022 MJ reported on the news that Kotug and Cargill had teamed up to develop a zero-emission electric tug and barge service to transport cocoa beans between Port of Amsterdam, the world's largest cocoa import port, and Cargill's cocoa facilities in Zaandam.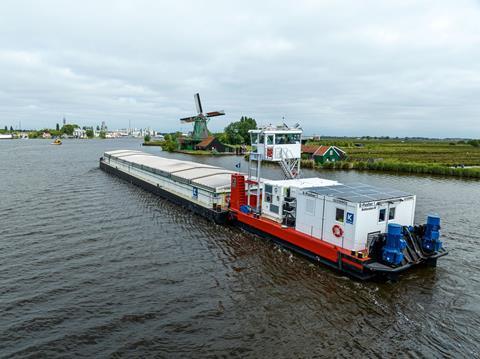 The project has taken a further step with the recent naming of all-electric E-Pusher 1 now entering service along with the E-Barges. The report includes further details of a sustainable inland waterway transport system, of which this first example will doubtless develop along with the drive to clean up the environment by eliminating both emissions and noise pollution in typically populated areas.
The idea of employing pusher tugs and interchangeable cargo barges is nothing new. The system allows a quick turnaround for tugs switching between full and empty barges, and the use of such transport modes can be seen daily, with the huge tug/barge combinations transporting iron ore and coal from ports including Rotterdam and Amsterdam to inland steel production plants and other industries, including in Germany's Ruhr Valley region.
For this much smaller operation, the fact that it is a dedicated regular service between fixed ports makes planning the supply of charged batteries a simpler problem to solve.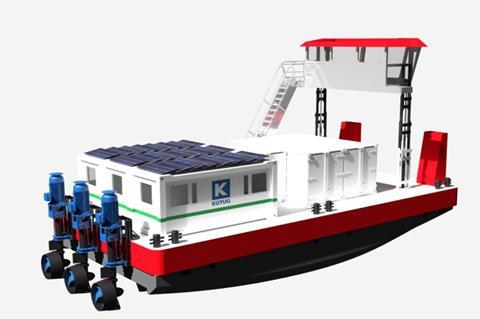 E-Pusher 1 was christened recently in traditional maritime fashion by Marieke Taal, operations manager at Cargill, to mark the official start of service for the vessel with Kotug operating the zero-emission E-Pusher and E-Barges.
The joint news release describes the zero-emission vessel as being equipped with "state-of-the-art technology and cutting-edge propulsion systems", eliminating harmful emissions including carbon dioxide, sulphur oxides, nitrogen oxides and particulate matter.
The fully electric pusher tugs and barges are expected to reduce CO2 emissions by 190,000kg a year, the equivalent of 15,000 single trips of the same distance by trucks. The vessel's batteries will be charged by green energy from the wind farm that Cargill and Vattenfall operate in partnership with Windpark Hanze.
E-Pusher 1 is one of Kotug's Type-M all-electric pusher tugs, equipped with swappable energy containers from Shift Clean Energy. The modular approach and lean assembly method allows Kotug to reduce construction time by more than half compared to traditional pusher tugs.
The E-Pusher series is offered in three types: small, medium and large for transport in inner cities, over short distances and the larger inland waterway systems respectively. The Type-M can push barges with up to 4,000 tons of cargo.
While the Kotug/Cargill operation between Port of Amsterdam and Zaandam will use batteries charged from clean energy via wind turbines, Shift's swapable ESS battery systems (ranging from 70kWh to 6MWh) can be charged through clean power generation from biogas, hydrogen and other renewable energy sources either onboard the vessels themselves or at Shift's dedicated PwrSwäp energy stations.
Kotug says improved CAPEX and OPEX, along with greater efficiencies, are achieved with the swappable energy container concept, with the changing of the container at one of the battery hubs possible in just a few minutes. Empty batteries can also be charged overnight to take advantage of possible energy surpluses in the grid system.
"I would like to express our gratitude to Cargill for their partnership and unwavering support in this transformative endeavour," said Ard-Jan Kooren, President and CEO of Kotug International. "Together, we are making history and reshaping the future of maritime transport. This ground-breaking achievement aligns with our mission to provide sustainable solutions to the maritime industry. By introducing the world's first zero-emission vessel of this set-up, we aim to inspire other shipping companies, governments and stakeholders to embrace clean energy solutions and make significant strides towards achieving the global climate goals for the next generation."
"Cargill is committed to nourishing the world in a safe, responsible, and sustainable way," said Emiel van Dijk, Cargill managing director for Cocoa and Chocolate Europe and West Africa. "Electrifying the transport of our cocoa beans is just one example of how we are implementing new, innovative sustainable practices to reduce our impact on the planet and protect people. The Kotug E-Pusher Type M is the first of its kind and Cargill is excited to be a partner in launching it in the Netherlands."