UK marine civils engineering firm Land & Water's subsidiary Land & Water Plant has bought the first long reach excavator of its kind in the UK.
The Hitachi ZX130-7 excavator is an addition to its amphibious plant and road transportable marine equipment and is ideal for dredging rivers and lakes as well as maintaining banks.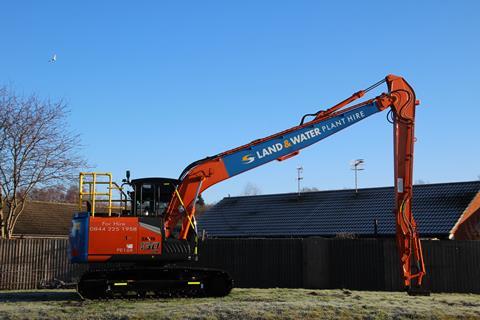 Land & Water says the machine's fuel consumption is lower than other similar machines, and it has reduced life cycle costs because of its Stage V-compliant engine.
Stage V (Regulation 2016/1628) is an emissions standard for Non-Road Mobile Machinery with spark/compression ignition engines, and also includes generators, lighting towers and pumps.
"This eliminates the need for urea, filter replacements and associated maintenance," the firm says. "A fully fitted ECO gauge also allows operators to control fuel efficiency."
Land & Water is keen to emphasise environmental considerations, and claims it will achieve 'net zero' by 2030. It will achieve this by expanding its fleet with more specialist hybrid and fuel-efficient solutions, it says.