Construction of the first large-scale offshore wind farm in the US and indeed the Americas has finally begun, with monopile installation work now under way.
The Vineyard Wind 1 site, off the coast of Massachusetts, has had monopiles transported to the site by DEME installation vessel Orion, which will install the first six monopiles and accompanying transition pieces before installing the foundation for the offshore substation.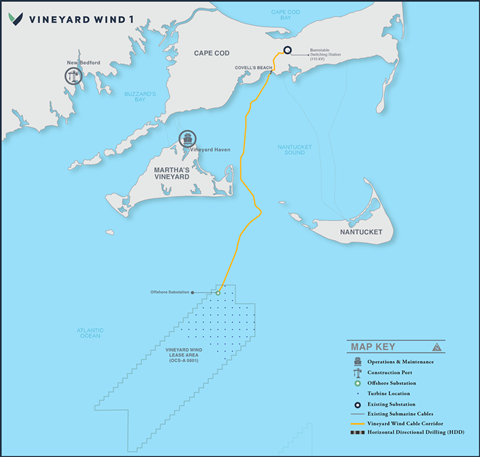 The wind farm, 15 miles south of Martha's Vineyard, is the Americas' first utility-scale offshore farm, and should generate enough electricity to power 400,000 homes, the partners in the joint venture, Copenhagen Infrastructure Partners and Avangrid, Inc., said.
In total, 62 General Electric Haliade-X wind turbines will be installed, each a nautical mile apart and each with a generating capacity of 13MW, making a total capacity of 806MW. Two subsea cables will be buried 6ft below the seabed using a jet plough.
"After a long road, the first day of component arrival is finally here," said Vineyard Wind CEO Klaus S. Moeller. "This is great milestone for New Bedford, Vineyard Wind and the country. We've been working together with Mayor Mitchell for years to achieve this and are now finally seeing the result. I am proud to introduce this technology to the US and to see the many jobs that this industry will create in action on the site to today. This is only the first – much more is coming. And the vision of New Bedford at the epicenter of the offshore wind industry is coming to life today."
The US has not been quick to enter the offshore wind market, but once it does so the European market is hopeful there will be opportunities for its more mature know-how to be used.
However, as reported recently in Maritime Journal, if a new bill becomes law it might be an additional hurdle to get over on top of the Jones Act, which only allows US-made vessels to transport cargo between US ports.
Tne new bill, the Coast Guard Authorisation bill, includes provisions for the crewing of vessels for energy projects that would either mean captains having to ensure their crew nationality matched that of the vessel, or having to crew vessels with American nationals only.
Once the foundation is in place, the remaining
General Electric