Plans have been unveiled to build what developers at Plymouth Marine Laboratory claim is the world's first long-range autonomous vessel.
The 24m Oceanus design by M SUBS is for a lightweight, self-righting, mono-hulled autonomous vessel that can carry an array of monitoring sensors to collect data for research into climate change, biodiversity, fisheries and biogeochemistry.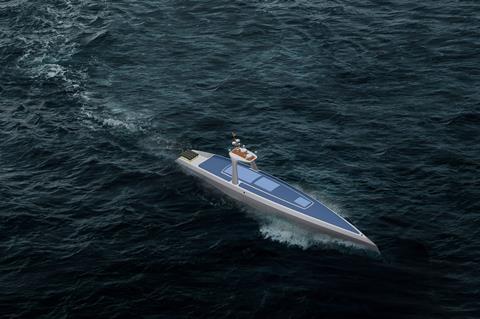 It will carry an advanced scientific payload and use AI technology for navigation to its target locations, using real-time weather forecasts and marine data feeds.
The Oceanus was designed primarily to make the transatlantic sampling voyage from the UK to the Falklands, the PML says, and has been supported by seed funding from the National Environment Research Council.
"The Oceanus represents a ground-breaking vision of how long-range marine research can be carried out in a more environmentally-benign way," says the PNL. "While a fuel-efficient diesel engine will still feature, it will be complemented by on-board micro-energy generation devices and solar panels on the deck.
"With the weight of people and living facilities also removed this will greatly reduce fuel consumption compared with traditional manned research vessels."
The command centre for Oceanus will be at the laboratory.
"The Oceanus will explout the very latest in AI technology, enabling us to push the frontiers of marine science and open up new opportunities in how we monitor the ocean environment," said Icarus Allen, Chief Executive of the laboratory.