Danish winch supplier MacArtney has fitted a containerised MERMAC winch to the Swedish icebreaker vessel Oden.
The Swedish Maritime Administration's vessel travelled to the North Pole to collect data and samples from the frozen region for use in researching the Arctic ecosystem. MacArtney's winch, which was developed specifically for the expedition, was used to acquire data from the water column.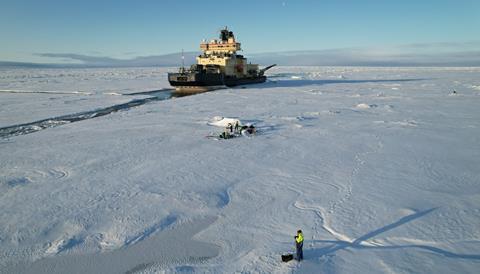 The Synoptic Arctic Survey 2021 expedition also took MacArtney Sales Director for Ocean Science, Hans-Jørgen Hansen, with it as a fully-fledged crew member because at the time, Covid was causing mass confusion and delays and the shortness of the post-installation testing window meant gear had to be installed just six weeks prior to embarkation.
The brevity of the period led the Swedish Maritime Administration to ask of a MacArtney technician could join the ship in case of problems, and Hansen's knowledge and background made him an ideal choice.
With deep-sea CTD profiling and water sampling being the primary deployment, the chosen solution was based on a standard winch system and fitted the Swedish Maritime Administration's applications and operations in the Arctic.
The scope comprised a MERMAC winch integrated into a 20' container, including a right-angle level wind and a 7,000m fibre optic cable solution with MacArtney's TrustLink stress termination and a custom-built NEXUS Multiplexer.
Oden continues to use the customised solution for water column profiling to reveal data from the depths of the ice-covered Arctic Ocean.