Ahead of Seawork 2023, Strategic Marine's GM Commercial, Hans Randklev gives us a snapshot of where the company is at when it comes to latest designs.
Strategic Marine is in a good place. Wind farms are on the up, and while Europe has been a rich market as it reaches maturity, Asia – specifically Taiwan, Japan and Korea – is now taking the business seriously too.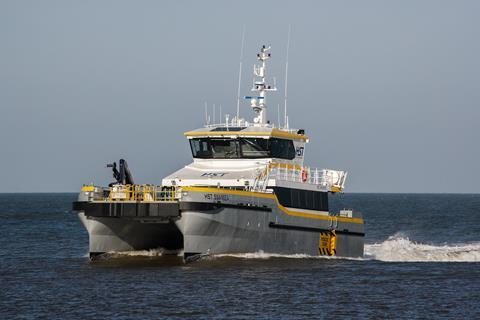 The latest vessel – a StratCat 27 (SC27) enhanced from the BMT design StratCat 26 – is the builder's first proof-of concept parallel hybrid CTV, and has been sold to the Purus Marine Group's HST Marine. It is making an appearance at Seawork. Three hybrid-ready sister vessels were also delivered to Manor Renewable Energy last year.
With this buoyant demand for crew transfer vessels has come a burgeoning demand for comfort and safety on them; a 'magpie effect', as some put it, where operators can afford to request more add-ons for crews that may have to sit for longer hours on a CTV as wind farms get further and further offshore.
Strategic Marine, a regular exhibitor at Seawork, besides safety and ease of operability, has placed comfort at the heart of its new StratCat 27, which is here in Southampton on the quay at VB23.
It is Asia's first parallel hybrid vessel, says GM Commercial Hans Randklev, and when hanging around a wind farm can run purely on battery power, significantly reducing its operating carbon footprint.
Each vessel is optimised for its own particular energy needs, he says, but the additional weight of any extra batteries has been accounted for in the fabrication of the vessel and all speed requirements are still met by the Caterpillar C32 engines.
The vessel has been designed and outfitted so there's more room inside: the seats are the kind you get in business class on aeroplanes, with reclining seats, USB ports on each arm and options for streaming onboard entertainment.
"What we understand from our clients is that over a long transit time, they want comfort and we want to be one shipbuilder that considers this," says Randklev.
"There's an intangible benefit to more comfort for the crew, too: we are hearing that it improves the performance of the crew once they are on site."
There's also plenty of work coming from the oil and gas industry, not necessarily because of more drilling, although new explorations are taking place, but because of the existing 15-year age cap on vessels operating in certain oil fields.
"This is a replacement cycle," says Randklev. "Vessels are coming up for renewal so the new fleet requirement will come into play and we are well positioned to bring in the next generation.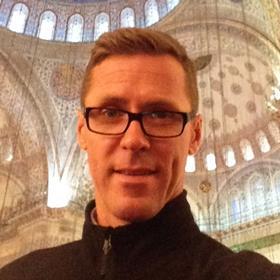 Staying true to our focus on onboard comfort, Strategic Marine also developed our latest generation of fast crew boats with a gyrostabiliser to reduce vessel motions and improve vessel capability and operational uptime for our clients."
Fuels of the future
The whole industry is talking about what to replace diesel with as the world heads down the decarbonisation path.
Strategic Marine is being cautious, but continues its drive for this plan nonetheless.
"We've talked a lot about this and it's not clear what fuel of the future will be preferred by our clients yet, however for relatively small and fast vessels, considerations of space and weight are critical," says Randklev. "We therefore look favourably upon fuels with high energy density that do not require cryogenic storage and that can be made widely available over the next few years, such as biodiesel and methanol.
"Full electric propulsion is also very interesting for certain operations where local infrastructure is available and the operational profile is suitable. This can also be looked at together with fuel cells or generators running on cleaner fuel alternatives to extend the operating range of the vessel while keeping within space and weight restrictions.
"Banking support in this drive is also important to enable multiple key parts of the entire ecosystem to enhance their speciality and contributions. And we hope that with time this will improve, with recent high emphasis on sustainable developments."