The project to install a floating wind turbine to connect to the mainland Spanish grid has been boosted with a major Japanese utility joining the project.
Japanese utility Kansai Electric Power Corporation (KEPCO) has signed an agreement with Saitec Offshore Technologies and RWE, who launched their DemoSATH platform on the water in the Port of Bilbao last July.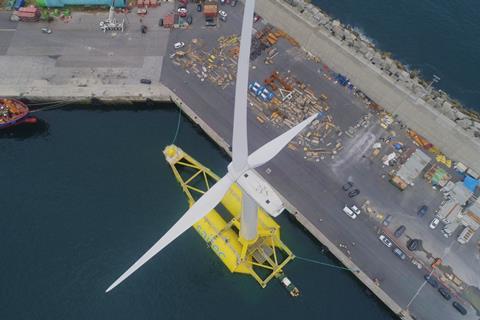 The 2MW unit is two miles off the Basque coast on 85m deep water. The seabed there is too deep for fixed bottom turbines, so using Saitec's SATH (Swinging Around Twin Hull) technology, the area was selected to demonstrate the floating option.
The technology is based on a twin hull made of modularly prefabricated and subsequently braced concrete elements, and because of its single point of mooring arrangement, the floater can weathervane and self align to the wind.
"The collaboration between Saitec Offshore Technologies, RWE Offshore Wind and now KEPCO creates a powerful alliance that will drive innovation, accelerate the commercialization of the SATH floating wind solution, and contribute to the transition towards a more sustainable energy future," said Saitec Offshore CCO Immanuel Capano.
"Together, these companies will leverage their collective resources, knowledge, and expertise to maximise the success of the DemoSATH project and advance the adoption of floating wind technology on a global scale."