A new floating installation vessel has been deployed to complete the installation of 28 XXL monopile foundations.
DEME Offshore has reached a major milestone with the completion of a project in the Baltic Sea to install 28 foundations weighting 2,000 tonnes each.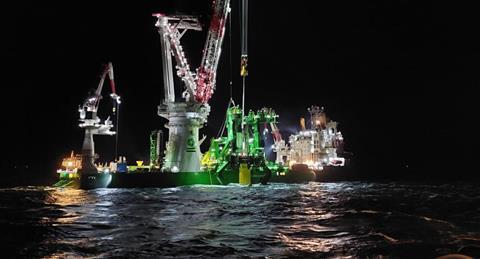 Deploying its floating installation vessel Orion for the first time, the firm says the foundations are the largest ever installed, with a diameter of 9.5m and a length of up to 110m.
Project developer Parkwind, based in Belgium, has taken on the installation in collaboration with the German government. The plan is to generate 257MW of electricity to power 290,000 households by the end of 2023.
Parkwind said DEME Offshore's floating turbine installation method 'is one of the most significant innovations in offshore wind energy and creates new offshore development opportunities throughout the world'. The Vestas V174 wind turbines will be delivered later this year.
An entire set of new specialist tools have been used during this maiden project for Orion. These tools include an adjustable monopile sea fastening system, a newly-built automated monopile lifting spreader beam to enable the horizontal lifting of the XXL monopiles, automated quick-lifting tools to avoid manual handling on deck, and several new noise mitigation systems, says DEME.
"We are extremely thrilled to see Orion and her motion-compensated pile gripper doing what the vessel has been created for, installing huge monopiles in extreme circumstances," said Hugo Bouvy, DEME Offshore managing director. "This pushes the boundaries of the offshore wind industry over the horizon and shows that DEME's smart solutions and equipment are ready for the next generation of foundations and wind turbines."
Parkwind;s country manager for Germany, Manfred Dittmer, said that with the monopiles in place, the secondary steel structures would soon be installed.