M&H Engineering is on a mission to take Stage V marine engines to the next level with its new power range unveiled at Seawork.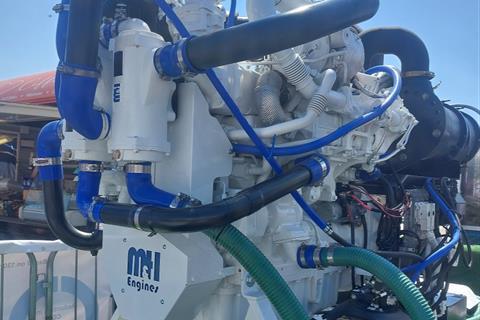 The company's brand new M&H 6068 range meets all known and future emissions regulation wordwide. That includes EU and the US EPA Tier V regulations.
"Our commitment is to develop products that not only meet but are also certified to the very latest stringent worldwide emission standards," Barry McCooey, managing director, M&H Engines, told Maritime Journal.
"Our new engine range has been five years in development. By running on ultra low sulphur diesel they are much cleaner than their predecessors."
Lean and green
In fact, based on a 130 to 560KW NRMM engine power range, they give a 99.78% reduction in carbon emissions, 99.79% reduction in NOx and 99.81% reduction in particulate matter.
M&H's first market is America, for which some of the first engines are already in production for at the moment.
"As far as I'm aware we also have the first Stage V engines in their size and power range that adhere to the Californian Commercial Harbour Craft regs," said Mr McCooey.
The 9L version was on display for the first time at Seawork, but there are other variations to follow - 4.5L, 6.8L, 14L and 18L.
They have been designed for either main propulsion or auxiliary power, to include gen sets and variable speed gen sets.
They're suitable for newbuilds or for retrofit so the range covers a wide variety and size of vessel.
M&H Engineering Stage V engines use EGR, DPF, DOC and SCR systems to meet the Stage V emission legislation requirements.
Oil fill and dipstick combinations, remote oil filter and fuel water separator and the DOC, PDF and SCR system for the Stage V engines, can be configured for easier service access, application and service flexibility.