A novel floating work platform was back on display at Seawork this year showcasing a higher payload Mk2 prototype.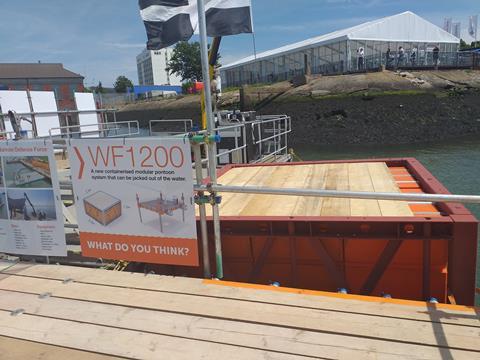 WorkFloat, the folding work platform that won the Spirit of Innovation Award at Seawork 2019, was showcasing its new 3t higher payload system that can be jacked out of the water and also set up for self mobilisation.
"We have come to Seawork with an early stage prototype. Our sole aim with WF1200 is to listen to gain market requirements. We can then use this infomation to steer the development of the design and to work in partnership to develop the system," Toby Budd, founder and director, WorkFloat, told Maritime Journal.
Innovation winner
The new prototype is once again a modular system that utlises the benefits of a space frame structure with plastic floats.
But as well as a higher payload capacity and jacking ability, it has much bigger crane options, larger engines and can scale to sizes 35 plus.
The design has been stripped back to be as simple as possible with a very low component count - it has been designed for mass production anywhere with easy maintenance, efficiency of transport and easy assembly at the forefront of the mind.
At only 1t per module, it is key for mobbing in tricky locations, and only a small crane, hiab, excavator or telehandler is needed for deployment.
The ability to 'jack up' has been driven by demand from existing geotechnical, civils and diving clients, Guy Trebilcock from WorkFloat told MJ.
"Being so light and easy to mob, the WF1200 system will be able to provide the benefits of a jack-up barge on inland waterways, under bridges, landlocked lakes and lochs and other sites traditional larger jack-up barges can't access," he said.
Like its Mk1 predecessor, the WF1200 can be kitted out with all manner of add-ons to include outboard propulsion, cleats and bollards, winches, jacking legs, ramps, gangways, moon pools and crane modules.
Uses span several sectors including survey, drilling, geotechnical, renewables, oil and gas, civils, events, disaster relief, access and working at height.
As well as exhibiting WF1200 at the show, the team had on display the Mk1 WorkFloat, the Cat 5 coded Workboat that tows behind a 4x4 or slides into a shipping container.
Also on display was ScaffFloat, the modular plastic pontoon launched a few years ago to bridge a gap in the pontoon hire market between large metal boxes that connect together and plastic modular pontoons that wobble and flex.