The purchase of ST Marine by Herman Senior came about over a beer shared by the owners, Peter Barker writes.
The two well-known Dutch tug and workboat operators became one following Barendrecht-based Herman Senior's acquisition of Harlingen-based ST Marine Support in February.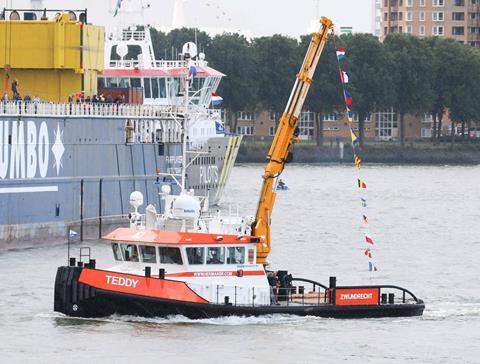 The takeover started, in typical Dutch fashion, over a beer between the owners of both companies, talks that "sparked a flame" with ST Marine Support's co-owners, presenting the opportunity to maybe do something else after 16 years in the workboat business.
After careful consideration of the proposal the acquisition was agreed and backdated to the beginning of 2023.
The make-up of the combined fleet presents an impressive line-up of tugs and workboats – all from Damen Shipyards, including the Multi Cat Bella delivered to ST Marine Support.
Both companies operate in similar sectors, Herman Sr's services including anchor-handling; diving support; dredging support; geotechnical services; hydrographic services; offshore wind support; oil and gas support; salvage and anchor recovery; and worldwide towage.
The combined fleet comprises six Shoalbuster tugs and six Multi Cat workboats. The Shoalbusters, as the name suggests, can operate in shallow waters with draughts between 1.8m and 2.45m minimum depending on type.
Fleet details
As usual with Damen vessels, the designation refers to its length and beam and Herman Sr's six Shoalbusters are: Baloe (SB2308 delivered 2006), Teddy (SB2308 delivered 2019), Bommel (SB2509 delivered 2013), Siskin (SB2709 delivered 2011), Barney (SB3013 delivered 2013) and the largest and latest in its fleet Brutus (SB3514 delivered 2021).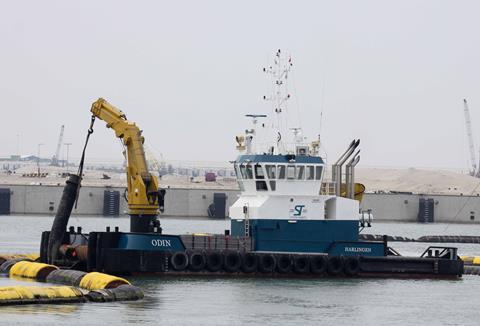 All have multi-purpose capabilities and offer bollard pulls between 23t and 61t. At the time of writing they were operating in German, Dutch and UK waters.
Turning to the combined fleet of Multi Cat workboats again with Damen's designation, Herman Sr now offers Yogi (MC2611 delivered 2008), Panda (MC2712 delivered 2017), Nero (MC3013 delivered 2013), Odin (MC3013 delivered 2010), Bella (MC3313 delivered 2023) and Auxilia (MC3515 delivered 2019).
While their capabilities and role descriptions may be similar to Shoalbuster tugs, the profile and layout of the Multi Cat range is very different of course and Herman Sr's six vessels offer bollard pull figures of 30t to 50t. Auxilia, Nero and Odin were formerly under ownership of ST Marine Support and are now absorbed into Herman Sr's fleet.
The Multi Cat fleet is currently widely dispersed, reflecting the global reach of Herman Sr and demand for such vessels, AIS data indicating the workboat fleet is operating from Georgetown, Guyana to Europe to the Middle East.
A recent high-profile task for the Multi Cat 2712 Panda was participation in the towing and sinking operation of the first of two tunnel sections for the new Maasdelta Tunnel between Vlaardingen and Rozenburg in the Netherlands.
Erwin van Dodewaard, commercial manager and co-owner of Herman Sr, said: "We are proud to have been given the opportunity to acquire ST Marine Support by owners Vasco Tammes and Rienk Switijnk. Knowing each other quite well, we got into informal talks about 13 months ago, over a beer.
"Vasco and Rienk have built a great company over the years with three robust and strong Multi Cat workboats that operate at the top of their market segments, especially in dredging. They and their team have a lot of experience and their clear, no-nonsense way of handling projects aligns neatly with our own way of working. We feel proud to continue their legacy under the Herman Senior flag. This acquisition is a big move forward for our company and quite a special step for our family. We look forward to welcoming the new boats and their crew into our fleet and serving customers with them."
Vasco Tammes, co-owner of ST Marine Support, added: "When Erwin and his brother Chris came to us with this idea, this possibility, it sparked a flame in us: the idea to maybe do something else after 16 years of being in the workboat business. Of course, we love our company and the industry, so we took our time to think it over.
"The talks and collaboration with Herman Senior were good, with mutual understanding and respect. Our companies are quite alike in scope and attitude. So with this agreement we know that two beautiful, carefully built, specialist companies become one greater entity; and in good hands. We wish Herman Senior and the Van Dodewaard family all the best and safe voyages."