The first cruise ship in 25 years to Cammell Laird shipyard has sailed away after a multi-million pound refurbishment, owner operator Fred Olsen Cruise Lines said.
Borealis had steel repairs, a shaft and propeller overhaul and a new coat of underwater paint during the works, which were done in the number 5 dry dock.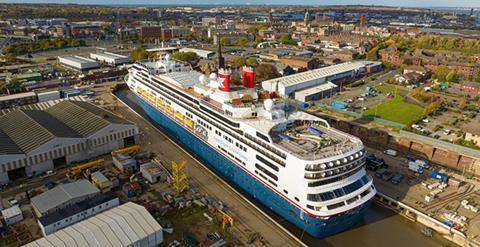 Cammell Laird said more than 150 people worked on the vessel, which is 238 metres long and has capacity of 1,360 passengers and 600 crew.
Paul Woodcock, who oversaw the repairs, said a few small steel repairs were done on the hull and in a fuel tank.
"We did also replace the ICCP (impressed current cathodic protection) and MGPS (marine growth protection system) onboard, which meant replacing some steel on the hull, but this was to accommodate different sized anodes rather than any wastage," he said.
"Props and hubs were fully removed and upgraded with the latest Kongsberg EAL (environmentally approved lubricant) compatible seals, same with the thrusters and stabilisers."
Hempel X7 silicon anti-fouling was used under water, and dockmasters were used for blasting the hull, he said.
"It is vital that ship repair projects are completed on schedule to minimise the downturn of each vessel," said Mike Hill, Cammell Laird managing director. "The combination of our strategic location, dry docks, fabrication services and wide-reaching skills and capabilities makes Cammell Laird a first-class choice for cruise customers."
Borealis has been a member of the Fred Olsen fleet since 2020, when she adopted Liverpool, England as her home port.
Cammell Laird has been operating as a shipyard for almost 200 years, having been founded in 1828. It carried out repairs during both world wars and produced nearly 200 commercial and military vessels to support the UK's war effort, including HMS Prince of Wales and HMS Ark Royal.