The trend with new tug deliveries and orders remains positive including 12 vessels worthy of mention, mostly with European connections.
Only recently Damen reported Fairplay Towage Polska's order for one of its Shoalbuster range tugs. Demonstrating modern tug builders' policies of offering short delivery times, the new vessel has now been delivered. Fairplay-37 is a Damen Shoalbuster 2711 ICE and set to play a role in developing the emerging offshore wind sector in Poland's Baltic Sea sector and beyond, its ice-class capabilities allowing year-round operation in the Baltic.
Built at Damen's SAFE Shipyard in Gdansk, the shallow draught vessel provides a bollard pull of 47 tonnes via IMO Tier III compliant Caterpillar 3512C main engines, and while the standard design has the option for ice-class, Fairplay-37 is the first of the type to actually be constructed for operations in icy conditions. This first ever Damen-built vessel for Fairplay Towage Polska was followed by a further order for two RSD 2513 tugs to be delivered in Q1 2023.
Orkney Islands Council's programme of replacing its ageing fleet of tugs that have served the council well for more than 30 years is now complete, with arrival of Freyja of Scapa from Sanmar's Tuzla yard in Turkey. The tug undertook the 3,500nm delivery voyage under its own keel and the yard's class name Kocaçay III to its new home in Scapa Flow, joining sister vessels Odin of Scapa and Thor of Scapa, delivered in 2020. Orkney Islands Council now has a trio of powerful ASD tugs based on Robert Allan's RAstar 3200SX design, well suited for service in the region's hostile weather conditions, including at the Flotta Terminal.
Back in May 2021, Robert Allan unveiled its new ElectRA series of zero-emission battery electric tugs, including an order for three 2800 marque vessels for HaiSea Marine's LNG Canada tug fleet. The series ranges from 21m to 28m, including a tractor configured version, and Sanmar has reported an order from SAAM Towage for two ElectRA 2300SX (Sanmar exclusive) versions. The 2300 variant is described by RAL as recognising that as most battery electric tugs will be intended for harbour operations, overnight accommodation will not always be required, freeing up space for in excess of 3,500kWh battery capacity in a flush deck design.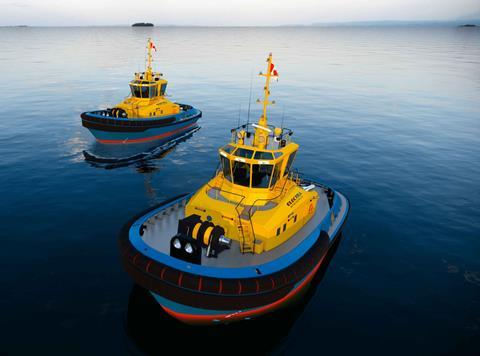 Contract signing and steel cutting for both vessels took place during the recent 26th ITS Convention, Exhibition & Awards week in Turkey and when delivered in 2023, the 70tbp pair will operate in SAAM's Canadian fleet.
Importance of protection
Returning to news from Damen, despite financial restraints currently affecting many countries, coastal states in Europe are still recognising the importance of protecting life, property and the environment following emergencies at sea.
With this in mind, Romania's General Inspectorate for Emergency Situations has ordered two Damen Stan Patrol 5009 emergency response vessels, part of the government's 'Vision 2020' project aimed at improving the country's disaster-response capacity.
Described as 'Search and Rescue Multirole Vessels', they will be capable of missions up to three days' duration in rough seas with a range of at least 2,000nm at cruising speed. They will have different roles, one with an SAR capability, including an emphasis on first aid and being capable of evacuating and taking on board at least 50 persons.
The second will be a fire-fighting multirole vessel meeting fifi-1 notation with multiple spray nozzles, including one on top of a hydraulic arm. It will also be capable of taking at least 30 persons on board. Both will have a winch area for 'touch-and-go' helicopter operations, rescue boats and ability to launch drones and remotely controlled unmanned vessels. With top speeds of 22kn they will be built at Damen Shipyards Galati.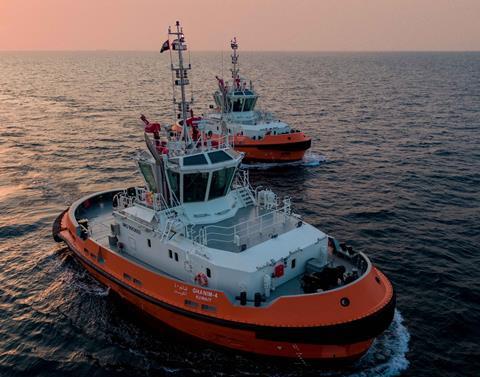 Finally, news from beyond Europe worthy of note concerns delivery of four RAL TRAktor 2700-Z tugs by Dubai's Grandweld Shipyard to Specialities Construction (SCC) for operation in Shuwaikh Port, Kuwait.
Ghanim-1, 2, 3 and 4 have multirole capabilities including firefighting and oil pollution response and offer in excess of 50tbp via Caterpillar main engines and forward-mounted Kongsberg Z-drives. A DMT escort winch is provided forward with a towing hook aft and oil spill response capabilities include a dispersant system and ability to store recovered oil in three dedicated tanks. Accommodation is provided for up to eight crew, all cabins above main deck level.