Propspeed, a foul-release coatings maker, has launched a solvent-based stripper that can efficiently remove foul-release coatings - like the one it makes - from underwater metals.
Stripspeed is simply painted on clean, dry surfaces, left for 30 minutes then scraped off, stripping the coating layer underneath away with it. There is no grinding involved to remove the coating, and no dust or debris is created, therefore the metal does not become worn through multiple applications.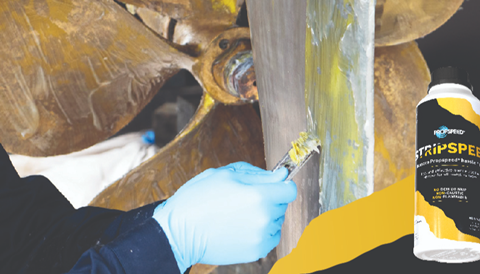 "In discussions with our network of applicators, we have found that the most time-consuming part of reapplying Propspeed is removing the old layer," said CEO Chris Baird. "To make it easier, faster and more cost effective for our applicators, we formulated Stripspeed to easily remove the primer and topcoat all at once, eliminating the hassle, mess and toxic dust or debris that other methods produce."
On Propspeed's booth at Seawork this year, it partnered with Marine Protection Systems to demonstrate its foul-release coatings with anode solutions in a demonstration tank.