Sensor technology in new buoys can also be added to existing ones in a new concept by Navmoor.
Navmoor has released its 'smart' buoy, concept, which is available in new buoys or if customers prefer, can be added as a bolt-on to their existing hardware, the company says.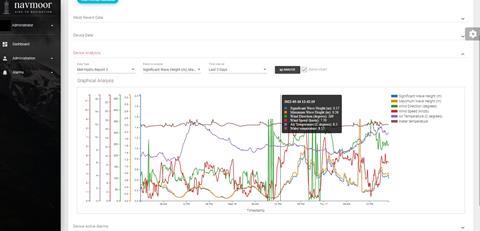 The company's monitoring module can be added to any existing lantern power supply or self-contained unit to provide both verification that a light is working and confirmation that the buoy is correctly positioned via a GPS receiver, says managing director Chris Newell. It means ports n harbours can add monitoring to existing lateral and Cardinal buoys, or buy new.
It also means the number of buoys required is reduced – thus cutting maintenance costs.
"Navmoor can also provide a new light with integrated monitoring, and this also enables the additional option for control functions," Newell says.
"Many ports, wind farms and construction/dredging projects need to measure the weather, sea conditions and water quality. This data can help for example to determine when it is safe to conduct marine operations. The Navmoor monitoring system is also capable of integrating a full range of other sensors according to client needs.
"Data can be viewed on the Navmoor Monitoring Portal and alarms can be sent to phone or by email for example in the event of light failure, if the buoy moves off station or any measured parameters exceeds a user-defined limit.
"By fitting these sensors to an existing, charted navigation buoy station we remove the need to deploy a separate 'data buoy' platform(s). Fewer buoy platforms in the water means lower annual maintenance costs."
Navmoor is a member of the IALA (International Assocation of Marine Aids to Navigation and Lighthouse Authorities).