Safehaven Marine's new CTV was on show at Seawork before going to new owners Williams Shipping.
Safehaven Marine has built an Interceptor 48 Pilot Boat for Williams Shipping in Southampton, UK.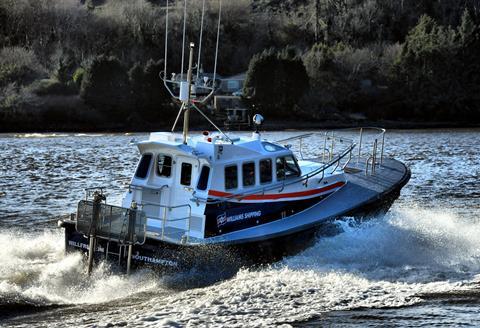 Willfreedom will be used for crew, passenger and pilot transfers.
The vessel is powered by a pair of Scania DI13 500hp engines with a 7kw AC generator, with a top speed of 26 knots. She has a polyurethane bonded fendering system for protection during boarding activities in rough weather, and is also fitted with an MOB recovery platform.
Willfreedom has passed all sea trials and will be taken down to Southampton for Seawork, where she will be on show.
Williams aims to expand its fleet to be able to provide quicker and safer passenger transfers along the south coast, it says.
Safehaven Marine, based in County Cork, Ireland, has designed and built 150 vessels delivered to 28 countries since its inception in 1996.