The most important energy industry port facility in Scotland has been given a 1,200m deep water capacity boost.
Construction of a new East Quay at northeastern Scotland's Port of Nigg has been completed, providing 1,200m of deep water quayside capacity and a quay length of 225 metres.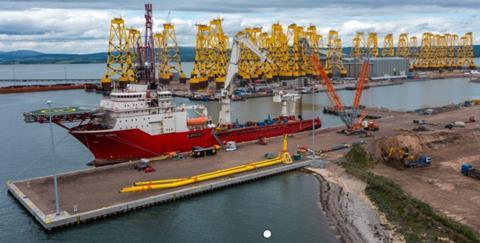 The port already has a large dry dock, expansive laydown areas with high ground bearing capacity and some of the biggest construction and assembly shops in Europe, operator Global Energy Group says, adding that the opening of the quay is set to be a game changer, enabling it to service different large-scale energy projects at the same time.
"It also ensures the port facility has the required infrastructure in place to accommodate the demands for future floating sector opportunities," Global Energy Group says.
Marine construction work started in April 2021, with Farrans Construction working through the Covid lockdowns to finish on time and to budget. The new quay will be the main quayside for shipping activities, with others available.
The East Quay offers 12m LAT water depth, adding to the port's Inner Dock Quay (240m), South Quay (370m), West Finger Quay (130m long, 40m wide with a berth on either side and on the end) and Terminal Jetty, which offers 22m LAT water depth.
The 740,000m2 site has a range of on-site servies, including mobile and crawler cranes, stevedoring and ship agency services.
"Our new East Quay helps us better service our existing customer's needs, in the renewables, oil and gas, and nuclear sectors, and the enhanced capabilities will assist us to attract inward investment with a vision to create long term skilled manufacturing jobs at our port which will become a National hub for the renewables industry," said Facilities Director Rory Gunn.
"The increase of our deep-water quayside capacity to over 1,200m provides the necessary infrastructure for supporting the next generation of floating offshore wind at a time when the SOWEC Report and other major studies have identified the Cromarty Firth as the only location in the UK with the physical characteristics and port facilities that could feasibly support their development," said Global Energy Group Chairman Roy MacGregor.
The port has already welcomed its first vessel - the Boa Sub C, which is loading out structures at Nigg for the oil and gas industry.