Windcat Offshore has ordered a series of new hydrogen-powered Commissioning Services Operation Vessels (CSOVs) from Damen Shipyards.
The "Elevation Series" CSOVs have been designed by Damen in cooperation with CMB. TECH, part of Belgium-based shipping and logistics group CMB.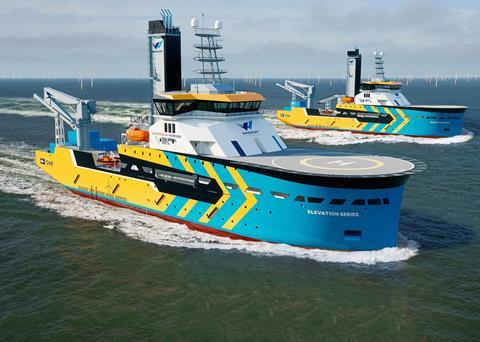 Initially two vessels will be built at Ha Long Shipyard, Vietnam with options for further vessels in the future ro be delivered from 2025 to Windcat Offshore, a new business unit within Windcat that will focus on offshore energy commissioning and services. CSOVs are designed to remain at an offshore windfarm for extended periods of up to 30 days, providing maintenance materials and housing technicians in hotel-style accommodation.
The 120m long, 20m wide Elevation Series vessels will have a significantly reduced CO2 footprint using the same dual fuel hydrogen technology as on board the Hydrocat, the world's first hydrogen powered Crew Transfer Vessel (CTV). Damen says this approach will also make a critical contribution to the development of rules and regulations related to the use of hydrogen as a fuel in medium-sized vessels. They will be equipped with the latest gangway, crane, thrusters, hybrid battery technology and offshore charging capability.
The Netherlands-based Damen also says it is committed to becoming the world's most sustainable shipbuilder and is a recognised pioneer in the development of Service Operations Vessels, having designed and built one of the world's first dedicated walk-to-work vessels five years ago, vessels that are still "performing very well in the North Sea".
Windcat has been developing the CTV business in all aspects of vessel design, construction and operations for 20 years and just four years ago laid the foundations for the creation of a "ground-breaking" CSOV design. It is now positioned to offer best-in-class service to both the CTV and CSOV sectors on a side by side basis.
It is less than two years since Windcat was integrated into the CMB family, taking a strategic step by investing in these state-of-the-art CSOVs and leveraging CMB. TECH's hydrogen know-how to bring hydrogen to the offshore wind industry.
CMB and Damen are both family-run businesses where collaboration takes place in an open and constructive manner, both companies seeing a bright future for the offshore renewables sector. The background to this latest development of the now proven SOV design will be examined in more detail in the January edition of MJ.