A €19.6 million project that aims to be a 'stepping stone' towards large-scale wave energy commercialisation will be launched at the International Conference on Ocean Energy in Spain.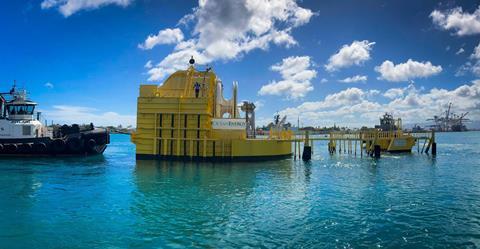 WEDUSEA is a collaboration of 14 partners from industry and academia from the UK, Ireland, France, Germany and Spain, co-ordinated by OceanEnergy, an Irish firm that has developed the world's largest capacity floating wave energy device, the OE35.
The OE35 device floats on the surface of the ocean and incorporates a trapped volume of air, with the lower part open to the sea.
Wave pressures at the opening beneath the surface of the water cause the water to oscillate and drive the trapped air through a turbine to generate electricity, the company says. It will be demonstrated with a 1MW grid-connected floating wave energy converter at the EMEC test site in Orkney, Scotland.
"This rigorous technical and environmental demonstration will happen over a two-year period in Atlantic wave conditions," said Tony Lewis, chief technical officer at OceanEnergy. "Wave energy is the world's most valuable and persistent renewable resource. However, it has yet to be fully realised.
"The project will demonstrate that wave technology is on a cost reduction trajectory and will thus be a stepping stone to larger commercial array scale-up and further industrialisation. We predict that the natural energy of the world's oceans will one day supply much of the grid."
The partnership is being funded by the EU Horizon Europe Programme and Innovate UK, a UK government-funded organisation that funds technical innovations.
Wave energy projects are gaining momentum, with several projects tested at the EMEC in recent months, including the Aquantis floating Tidal Power Tug, a stable spare buoy vessel moored to anchors on the seabed.
Rémi Gruet, CEO of the trade association Ocean Energy Europe, said: "Wave energy is at full-scale stage now and projects like WEDUSEA are paving the way for pilot farms and sector-wide industrialisation. As an EU-UK collaboration project, it will demonstrate the potential for wave energy to make a significant contribution to the EU Green Deal target. Wave energy will help smooth production peaks or dips from variable wind and ensure European energy independence."
Matthijs Soede, from the European Commission, says the bloc's Offshore Renewable Energy Strategy has listed a 1GW target for 2030 from tidal energy sources.