After just over a week, the Fremantle Highway has begun its journey to the Port of Eemshaven with investigators on board to monitor the situation.
Towing began at 5am to the port, which at 64km away was considered to be the most suitable, according to Rijkswaterstaat (the Dutch Ministry of Infrastructure and Water).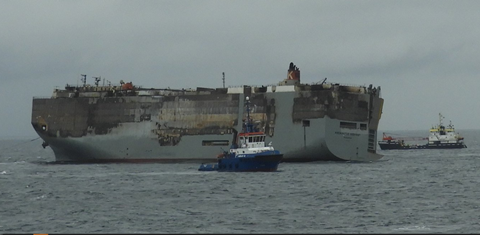 The port's infrastructure and other facilities are also considered to be suitable for the salvage of the ship, Rijkswaterstaat said.
The cargo will be unloaded on arrival at the port, which will of course be dependent on water and weather conditions.
"During the inspection, the condition of the ship was examined, which revealed no indications that there is still a fire," Rijkswaterstaat tweeted. "The ship is also still intact below the waterline and does not heel over. Whether this involved looking at the extent to which the cargo was affected, I dare not say."
Rijkswaterstaat says the owner of the ship, K Line, will be responsible for any further handling of the cargo, which the Japanese owner admitted recently included up to 500 electric vehicles, far more than first thought.
The Dutch authority has placed an oil shield around the vessel to limit any spillage contamination as it is being towed, and will hand over all operations on arrival at the port.