A new offshore jack-up installation vessel has been designed to meet current and future offshore wind installation challenges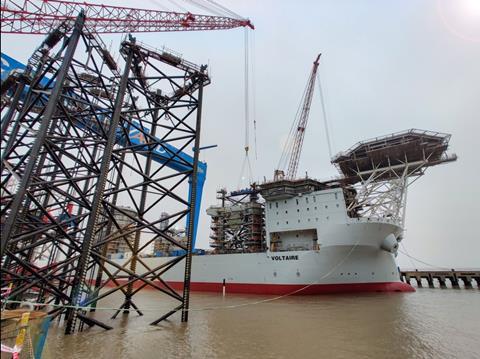 Jan De Nul has launched its next generation jack-up installation vessel Voltaire which it says will keep up with the offshore wind market.
"The Voltaire will enable us to work in deeper waters and reach ever higher nacelle heights than before. Adding Voltaire and Les Alizés to the fleet gives us the perfect set of vessels to execute the growing number of large and clustered international offshore wind projects," said Philippe Hutse, director offshore division at Jan De Nul Group.
Scaling up
With a leg-circling crane in excess of 3,000 tonnes, the deck space of a football pitch and very long legs, the Voltaire can install offshore wind components in water depths up to 80 metres.
In order to minimise environmental footprint, the Voltaire is designed as an ultra-low emission vessel, able to run on 100% second-generation biofuel, without modification.
It's equipped with a highly advanced dual exhaust filter system, removing up to 99% of nanoparticles from emissions using a diesel particulate filter (DPF) and reducing the NOx emissions and other pollutants by means of a selective catalytic reduction system (SCR) to levels in accordance with EU Stage V regulation.
The main crane with a capacity of over 3,000 tonnes will enable it to construct the current and future generation of wind farms at sea.
Voltaire will also be available to the oil and gas industry for the decommissioning of offshore structures.
The Voltaire will be Jan De Nul's second largest jack-up vessel fitted with a high-tech jacking system.
Jan De Nul is scaling up its fleet to serve growing market demands.
It announced the order of the Voltaire, along with Les Alizés, an equally revolutionary floating installation vessel, back in 2019.
With lifting capacities of over 3,000 tonnes and 5,000 tonnes respectively, along with Jan De Nul's existing subsea cable laying trio, these vessels will have the capability to install the complete requirements of next generation offshore wind.
Voltaire's first assignment will the vessel mobilise to the United Kingdom for the construction of the 3.6 GW Dogger Bank offshore wind farm, the world's largest offshore wind farm, transporting and installing in total 277 GE Haliade-X turbines up to 14MW.
Together with Les Alizés, the Voltaire is due for delivery in the second half of 2022.