A specialist composites manufacturer has manufactured suspended walkways for one of the UK's busiest ports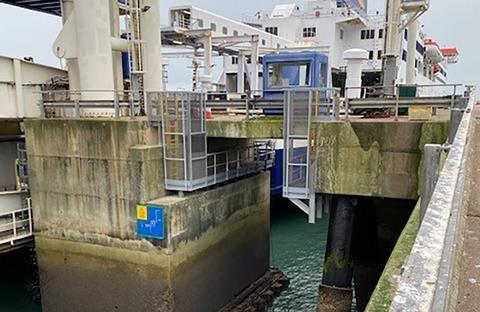 The suspended walkway manufactured by Step on Safety, was a bespoke solution created for the Port of Dover which needed six bespoke suspended walkways to be built beneath its piers to be used for inspections and maintenance.
Work started in April 2021 and took eight months in total from CAD Design to fabrication. The end of the project resulted in six bespoke walkways, four suspended and two standing on a platform.
The inspection gangways will mean the port crews can now make regular checks without the need for specialist abseiling teams.
UK first
The team spent approximately six weeks working in some pretty horrible conditions to complete something which Step on Safety said it has not seen done in the UK before.
Even Step on Safety's CAD Design team spent time on site whilst the project was in build, overcoming unforeseen obstacle's and redesigning certain elements to suit the clients' needs.
All the fabrication took place on site, as access limitations prevented pre-fabrication at Step on Safety's factory.
Working in conjunction with Volker Laser, the primary contractor on site, the company provided six cantilevered walkways complete with access ladders, handrail and safety gates.
During the work, some of the existing concrete deck at the end of the pier was replaced with 42mm solid top grating adding hatches to allow access to the new inspection walkways.
Step on Safety was founded in 2007. It specialises in anti-slip flooring and GRP products that can be used in place of traditional materials.