The system was unveiled at the Clean Maritime Demonstration Competition showcase hosted by the UK Department for Transport (DfT) and Innovate UK.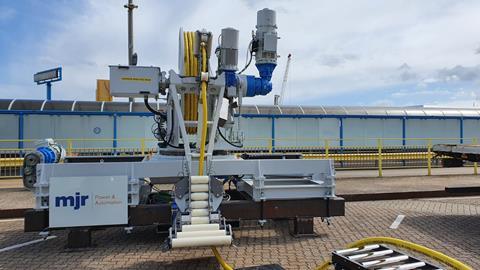 The showcase, held at Portsmouth International Port, brought together 55 projects from across the UK that received funding by the DfT and were delivered in partnership with Innovate UK.
"We are delighted to have been able to showcase our development amongst a series of UK innovators transforming marine operations," said Paul Cairns, Managing Director at MJR Power and Automation.
"With vital schemes, such as this, we have been able to demonstrate our innovative capabilities – coupled with unrivalled knowledge and expertise possessed by our world class team – to develop world-leading technology that will be absolutely vital in the decarbonisation of marine operations."
Project consortium
To bring the project to fruition, MJR Power and Automation led a consortium of partners – Ore Catapult, Xceco, Artemis Technologies and Tidal Transit – which all provided expertise in their given fields to develop the system in just seven months.
Construction and in-house testing have now been successfully completed on the offshore charging system, which is looking to revolutionise the offshore wind sector.
The charge points will enable all electric crew transfer vessels and other offshore support vessels to connect in the field to a 100% green energy source generated directly by offshore wind turbines.
This innovation aims to break down the existing range barriers and increase the uptake by vessel owners and operators with transition to fully electric and green propulsion systems, for retrofit and newbuild vessels.
The ability to charge when in the field should significantly help accelerate adoption of current emission-free propulsion systems, which will be a major asset for the decarbonisation of the global maritime sector.
MJR has more than 25 years' experience delivering marine electrical power and automation projects from newbuild, retrofit and upgrade. It provides a complete turnkey offering of products and solutions, from power and propulsion, automation and energy storage to equipment, remote monitoring and shore power supplies.