Specialist divers and marine engineers have begun major works to an offshore pipeline as part of a marine civil engineering project to avoid contaminating drinking water.
The maintenance work is being carried out at the Coal Authority's Dawdon Mine Water Treatment Scheme (MWTS), which treats mine water that has built up since local collieries in the north east of England were shut down.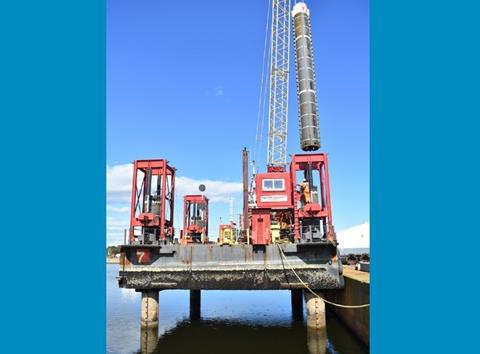 Southbay Civil Engineering is managing the project on behalf of the Coal Authority and with the use of the Haven Seaway jack-up barge from Red7Marine.
Each year, more than 2,000 million litres of mine water are treated and flushed through Short Sea Outfall pipes and into the North Sea. The divers will enter the North Sea from the jack-up barge near the pipes to carry out the investigation and repair works, made more complicated because of the tidal environment. They will guide a series of pre-cast concrete units into position before connecting the necessary pipework.
"The Dawdon MWTS protects a vital underground source of drinking water that Northumbrian Water uses to supply to around 30,000 people in the region, ensuring that the drinking water cannot be contaminated by the stored mine water," said project manager Pete Bingham of The Coal Authority.
"Together with our partners, we are committed to protecting the public and the environment from the effects of the UK's mining legacy, which has deep roots in the north east of England. These routine works are clear and visible evidence of this commitment."
The work is expected to take four weeks to complete.