A bespoke floating concrete breakwater has been designed and manufactured fopr Haslar Marina, near the UK's Portsmouth Harbour, with the first stage of the installation already completed.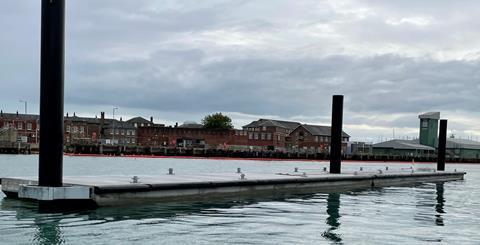 Two 60-tonne 20m x 4m floating concrete breakwater units have been oriented to fit within a major reshaping of the marina, which when finished will allow 45 new berths to be created in the main part of the marina, as well as berthing for larger boats and superyachts, says Inland Coastal and Marina Systems, which is doing the work.
"Combining high strength and flexibility, our concrete breakwaters are built to withstand severe weather and wave action," said Jon Challis, sales manager with ICMS. "Being fit for purpose does make the units heavy, which means they can be challenging to transport and manoeuvre, but working closely with the team at boatfolk, and experienced local marine contractor, Baker Trayte, the installation has been seamless. Haslar Marina now has the first phase of the protection it needs to expand its berthing facilities."
Phase two will involve the addition of two 15m x 4m floating concrete units to the breakwater, which will complete a full 70m wave attentuation programme in the most exposed area.
""They are designed specifically to reduce waves to a level where sheltered and comfortable berthing, either in a harbour or marina, can be provided - ensuring berth holders and visitors get a good night's sleep," said Challis.