Plans for the Netherlands to store carbon dioxide 3km beneath the North Sea have been rubber stamped by the Council of State, which has ruled the project is ecologically sound.
'Porthos' – which has been obtained from Port of Rotterdam CO₂ Transport Hub and Offshore Storage – has been conceived by the Port of Rotterdam and energy firms Gasunie and EBN to cut the amount of CO2 emitted by industry operating at the port every year over the next 15 years.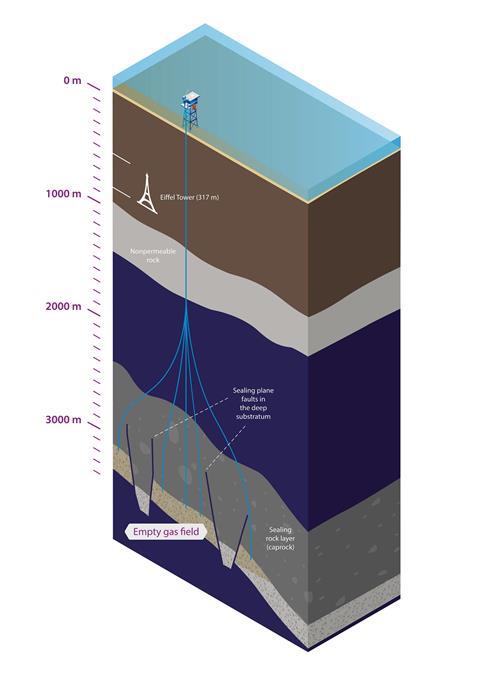 The parties aim to pipe millions of tons of carbon dioxide to depleted gas fields 20km offshore until available capacity of 37 million tons is reached in sealed hubs beneath the seabed.
Once capacity is reached, it is not clear what happens – although the project leaders say they are 'investigating the possibilities for a sequel'.
Collected CO2 will flow ]] as a gas under 35 bar of pressure through an onshore 108cm diameter pipeline, which will be housed within an existing pipeline corridor through the Rotterdam port area for about 30km out to a compressor station at Maasvlakte.
Here, the CO2 will be compressed to 130 bar for transmission to the P18-A offshore platform, a former gas platform, through a 22km pipeline about 40cm in diameter under 130 bar of pressure.
The collected carbon dioxide will be stored in the pores of the sandstone substratum that used to contain natural gas, the project leaders say. As gas was extracted the high pressure there was relieved, but as it is replaced by CO2 it will rise again.
The depleted gas field is cased in metal and will now be fitted with a new inner tube to make sure the CO2 does not leak. Once filled in about 15 years' time, the well will be sealed with plugs.
The Dutch project allows for 2.5 million tons of carbon to be captured and stored each year.
Details of the infrastructure required have not yet been released but the project is slated to commence by the end of next year.
According to statistics body Statista, the two largest carbon capture and storage sites currently operating in the world are tied at seven million tons per year: the Petrobras Santox Basin Pre-Salt Oil Field in Brazil and the Shute Creek Gas Processing Plant in the United States.