Denmark's largest port, Port Esbjerg, has ordered a second LHM 800 crane, which will bring the total number to seven Liebherr cranes in the port.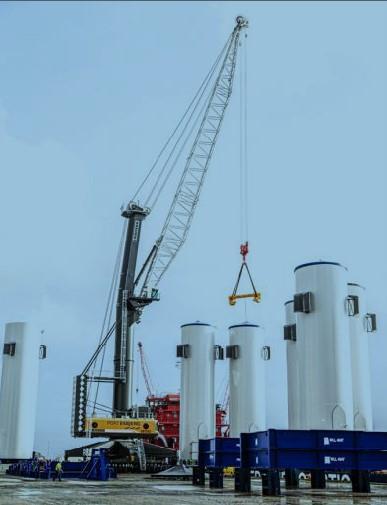 It is already awaiting delivery of an LHM 600, and the pair together will provide a tandem lift of next-generation offshore wind turbines of up to 616 tonnes. The port will be the third port in the world to have two LHM cranes in its fleet.
Esbjerg port needs the extra lifting capacity as its current annual handling capacity of 500,000 tonnes of wind turbine components is bound to increase.
"The LHM 800 is the largest and most powerful mobile harbour crane in the Liebherr LHM portfolio," says Liebherr. "The machine meets the ever increasing demand for mobile heavy-duty cranes in the maritime sector. A key driver of this development is clearly the wind industry.
"In a special heavy-lift version, the LHM 800 is capable of lifting weights of up to 308 tonnes and up to 616 tonnes in tandem mode with the intelligent Liebherr system Sycratonic."
Sycratonic is a computerised assistance system for operating two cranes with one crane operator.