Portsmouth International Port has reached an important milestone with its new solar generation system with 888 solar panels now having been switched on.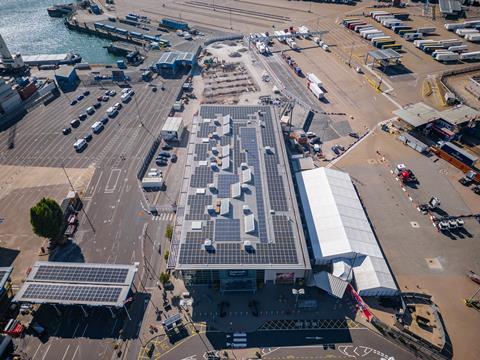 Installation began in February 2022 by specialist contractors Custom Solar, and incorporates roof-mounted solar panels across a number of buildings, a large battery and solar canopies.
"The port is owned by the people of Portsmouth, so we have an obligation to reduce the impact of our operations on the environment, whilst reaching the ambitions set out in our 20 year Masterplan," said Jerry Clarke, pilot and senior project manager at Portsmouth International Port.
"Combined with other sustainability initiatives, it will help us achieve our ambition of reaching net-zero carbon by 2030, and becoming one of the UK's first zero emission ports by 2050. With government support, we really can make a clean maritime industry a reality".
Renewable energy
The solar panels mounted on rooftops around the port are now generating 400kWp of renewable energy that can be used to reduce consumption at the port, or can be exported back to the grid.
This is just a third of the total number of solar panels installed at the port over the past year. Once they are all switched on, the the 1.2mW peak system with 2,660 panels will contribute around 35% of the port's energy needs. This will be a big step forward for Portsmouth International Port's ambition to reach net-zero by 2030.
The system will also include a 1.5mWh battery, which is enough power to run a typical home for four months. It will capture green power that can then be used at the port at another time, such as to power lights at night.
This project is all part of an integrated approach at the port, that will eventually allow it to offer shore power for smaller ships, without having to take extra power from the local electricity grid.
The scheme has been managed by Portsmouth City Council's in-house energy services team, supported by Portsmouth International Port's engineering department.