Port Esbjerg in Denmark says its become the first port in the world to use a digital twin to calculate efficient methods for developing offshore wind installations.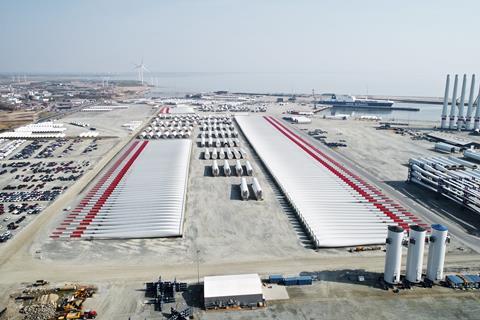 The digital tool developed by Moffatt & Nichol will have a dramatic effect on the port's wind capacity, as the port will be able to triple its annual shipping capacity for offshore wind installations from 1.5 GW to 4.5 GW, without expanding.
"Working with the digital twin is a gamechanger. We can make much better decisions using that tool. It means that we can triple our capacity at Port Esbjerg without expanding by a single square metre," said Jul Pedersen, CEO, Port of Esbjerg.
Using big data
The digital twin is fed huge amounts of data, enabling it to analyse all port processes related to the shipping of offshore wind installations, using a 1:1 simulation of the port.
Data includes everything from storage locations of wind components and space requirements to the impact of high tide and much more. In this way, all processes are optimised.
Port capacity is one of the greatest challenges to the green transition. The pace must be stepped up significantly to reach the European offshore wind targets of at least 65 GW of offshore wind by 2030 and 340 GW by 2050.
"[This] could play a huge role in the deployment of wind installations across the whole of Europe in the coming years. There's a lack of space at most wind ports in Europe, so we need to pull the ports out of our spreadsheets and create more digital twins instead," said Pedersen.
Working with digital twins to optimise, for example, container operations is nothing new.
However, the deployment of wind installations tends to be more complex than other port processes, so optimising the design of these processes is extra important. There are many activities going on at the same time which adds extra pieces to an already complicated puzzle.
Expanding capacity at Esbjerg will include the rebuilding of various access roads.