The Navalrocha Shipyard in Portugal has reported a boom in repair and maintenance work thanks to a resurgence in the cruise sector as well as new naval contracts.
The Lisbon shipyard says it is adapting and evolving after the Covid crisis and has actually recorded one of its busiest periods in the past five years.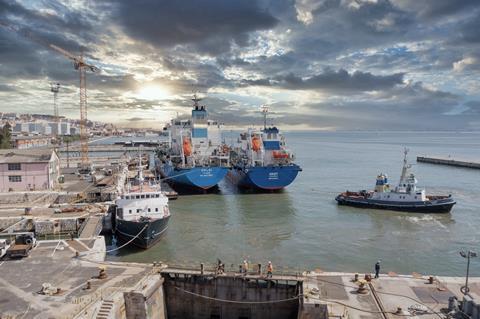 "Due to high levels of demand, the shipyard has accommodated pier-side repair projects, adjacent to the city centre drydocks, to manage periods of peak capacity, while dispatching specialist engineering teams to support neighbouring shipyards, further increasing work volumes," it says.
It says standout projects have included naval frigates, general cargo vessels, tugboats, passenger ferries, Antarctic expedition cruisers, bunker tankers and other chemical carriers.
And it's not ending there: commercial director Sergio Rodrigues says the yard is set to announce a new client, a high-profile but unnamed Dutch dredging company, which will require 'significant renewal work across a series of vessels' beginning this month.
"We are also well positioned for vessels travelling to ports further north including Aveiro and Viana de Castelo," said Rodrigues. "Elsewhere, we will continue offering all customers a number of unique benefits. Firstly, our sheltered base in the Tagus Bay provides ideal ship repair and conversion conditions, with more than 300 days of sunshine every year.
"We can provide faster and more cost-effective solutions to ship operators looking to avoid the congested Strait of Gibraltar or Mediterranean.
"Furthermore, the scale of our operation places us at an operational advantage with three easy-to-manage drydocks. This ensures every project receives 'priority treatment' from a 70-strong workforce and cluster of world-class sub-contractors located on site."
At the end of 2021, two ocean patrol vessels made famous by a Netflix documentary 'Seaspiracy' were fixed up at Navalrocha. Named after American TV celebrities Sam Simon and Bob Barker, who helped pay for them, the vessels now operate in West Africa as patrol vessels aiming to end illegal fishing.
Before they embarked on their work, Navalrocha carried out pier-side repairs including main engine, propellor shaft, blasting, painting, piping and minor steel works.