Cable-laying giant Prysmian Group has completed the cable laying and burial operations between the islands of Ibiza and Formentera, the firm has confirmed.
It carried out the work for Red Eléctrica, the Spanish state and public-owned national electricity grid operator.
Cable Enterprise, a state-of-the-art vessel that can simultaneously lay and bury power cables with any type of plough and in shallow water, carried out the work, which was begun in 2021.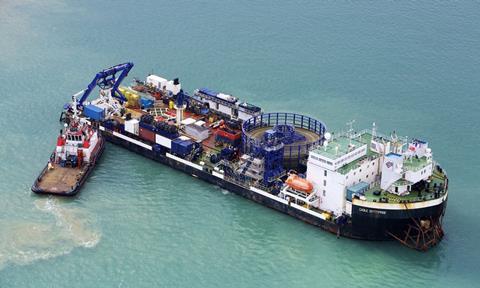 It was commissioned to design, supply, install and commission two high voltage alternating current 132 kV three-core export submarine cables and 10km of land cables, which were both made at Prysmian's plant near Naples.
"We are delighted to have welcomed the representatives of the Spanish institutions and of Red Eléctrica on board our vessel Cable Enterprise on the occasion of the successful completion of the laying and burial operations," said Hakan Ozmen, EVP Projects BU, Prysmian Group. "This important milestone further confirms our commitment to supporting the energy transition by making available the best cable technology for the upgrade and development of power grids, ensuring a stable and reliable flow of energy between the islands."
Red Eléctrica says the power connection is a 'giant leap forward' in guaranteeing electricity supply on both of the islands, which are very popular tourist destinations particularly for younger adults. They are two of the largest islands in the Balearics archipelago.
Cable Enterprise is one of three installation vessels owned by Prysmian.
In November it announced it was expanding its fleet with another vessel, to be built by the Vard Group, a subsidiary of Fincantieri.
"The development of more efficient and sustainable power grids infrastructure is key to enable the energy transition, and submarine cables are an essential component," said Valerio Battista, CEO Prysmian Group. "As global leader we are fully committed to technology innovation and we are happy to partner with worldwide leaders in the construction of vessels like Fincantieri and Vard to improve also our installation capabilities."