The Port of Antwerp-Bruges and operator PSA Antwerp have agreed to renew the Europa Terminal so that today's bigger container ships can continue to call at Antwerp.
The €335 million renewal work, which will be carried out in three stages over a total of nine years, has been handed to four contractors after a tender process that concluded on October 6.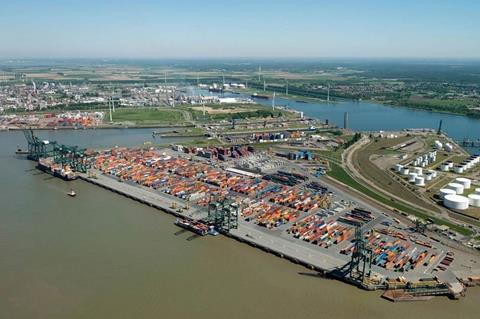 It will include electrification and wind turbine installation to reduce CO2 emissions, and the quayside will be given a new orientation to ensure there is enough distance between passing ships and the terminal.
An underwater dam will also be built in the final phase to provide additional protection for a nearby nature reserve, the contract provides.
The four winning tender companies were Artes-Roegiers, Artes-Depret, Herbosch Kiere and Boskalis - which 'all have extensive engineering experience in large-scale hydraulic engineering', according to spokeswoman Daniela Baicoianu, and will form a temporary company under which to operate.
The depth of vessels that will be able to moor at the 1,200m quayside will increase from 13.5 metres to 16, and because it is vital that ships can still moor during the works, it will be done in three stages.
"With the modernisation of the Europa Terminal we are underlining our ambitions as a container port," said Jacques Vandermeiren, Antwerp-Bruges Port CEO. "As a world-class port, it is essential that we continue to play at the highest level and are able to accommodate the biggest ships.
"We are, however, aware of the impact of our activities on the surrounding area and local residents. That is why we are committed to reducing mooring emissions, among other things. With a new efficient and sustainable terminal, we are building the port infrastructure of the future."
Capacity, said PSA Belgium CEO Cameron Thorpe, would increase by more than 70,000 TEU a year.
"We are very happy to undertake this project," said the four contractors in a joint comment. "It is a strategic project for the future of the port. It is technically complex and will be carried out in phases without too much disruption to container traffic. It will be a technical and operational feat, but one that we can handle thanks to our extensive expertise."