Dutch Customs have discovered the largest haul of cocaine this year at Rotterdam, with more than 3,500kg hidden among shipments of bananas, officials said.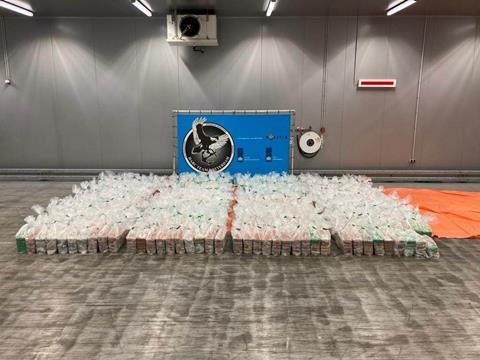 Estimated at having a street value of around €270 million, the drugs are thought to have been placed in a container in Ecuador that was destined for the Dutch province of Zeeland.
"This company probably has nothing to do with the smuggling," a Customs spokesman said. "The HARC team, a partnership of Customs, FIOD, Seaport Police and the Public Prosecution Service in Rotterdam, is investigating the case further. The drugs have since been destroyed by the Special Assistance Team (TBB)."
In May, almost 1,600kg of the white powder valued at around €120 million was found in shipments of car tyres and fruit at Rotterdam. In that instance the container arrived from Turkey bound for Hellevoetsluis, also in the Netherlands.
Customs officials said they thought traffickers planned to take the drugs out of the container before being noticed by the authorities.
"The scheme calls for the extractors and organisers to alter another container brought into the port to make it appear identical to the original, sometimes including the container number and check digit to trick port workers," investigators said. "In past schemes, cloned containers have even had extra items added to them as a way of making their weight identical to the original shipment."
While a popular destination for traffickers to send their products to, Rotterdam pales into significance when compared with the Port of Antwerp, where 110 tonnes were seized in 2022, according to figures from the European Monitoring Centre for Drugs and Drug Addiction (EMCDDA), making it the leading port for cocaine seizures in Europe.